Rob Simone interviews the father of the Bosnian Pyramid and David on Tuesday night! Get the cosmic download on pyramids around the world, how they work and why they were built!
GREAT SHOW ABOUT TO ARRIVE!

I've been working really hard finishing my book — and the end is in sight! I'm really looking forward to being finished and I'm very close.
I wanted to get this posted before we get hit with the big blizzard here in New York — because we may very well lose power. We've got all our supplies ready to rock in case that happens — and we've already had a preliminary dusting of snow.
I'm going to take some time away from this final stretch on my book to accept my friend Rob Simone's invitation to be his invited guest. This is his Big Debut on Coast — filling in while George is on Christmas vacation.
I was also on Coast for the last half-hour of Christmas Eve. I had some fun with George — starting out with the classic question, "Did you know Santa is a mushroom?" — and we went on from there.
Interestingly, Rob called me just as I started writing this post to discuss the details of what we will be talking about. He was blown away by what we're going to be covering. This will be a classic!
A HISTORIC EVENT

Semir Osmanagic's work on the Bosnian Pyramid is very important on a variety of levels — and this is his world debut on Coast, which makes it all the more satisfying to come on the air right after him to discuss it!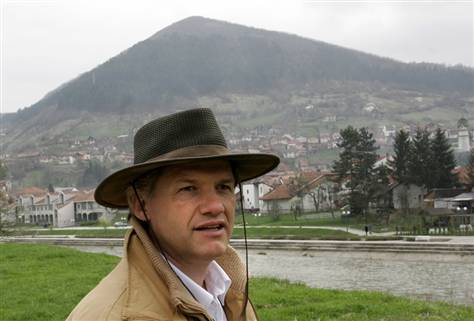 You can listen live on the radio Tuesday night, or download the MP3s by becoming a Streamlink member at coasttocoastam.com.
The specific link for our show, to get schedule details and so forth, is here:
http://www.coasttocoastam.com/show/2010/12/28

Rob and I are old friends and we both have quite the sense of humor. He's one of the only people who can keep up with me and not bust out laughing when I really get going! I just told him "This could be a lot more like Stewart and Colbert than you usually ever hear on Coast!"
I don't expect we're going to be a non-stop comedy show, but it will be a lot of fun nonetheless — and most definitely informative. This will be a comprehensive overview of pyramid technology — really unveiling many suppressed truths.
Hope to see you there! We will probably take your calls in the last hour, so you can look forward to that as well.
I hope you're having a happy and fulfilling holiday season, and wish you all the best. I may update this page with more stuff for the show before we go on the air — so check back Tuesday night!
VIDEO FOOTAGE OF THE BOSNIAN PYRAMIDS

This video is what first convinced me that this was not a hoax:
This 3D animation helps us visualize the possible sub-structure of the Bosnian Pyramids:
Here we have a recent video of flying over the Bosnian Pyramids — the pyramid first becomes visible as of 1:21:
DISCLOSURE SHOW WITH RICHARD C. HOAGLAND AND PROJECT CAMELOT

I also just got an email from Kerry to a location where you can purchase the post-conference stream from the incredible five-hour-and-fifteen-minute show we just did on Disclosure:
This was very comprehensive and I loaded it to the hilt with incredible information, as did Richard. Very high quality content.
We did have a lot of problems with switching from one person to another. Kerry had a switchboard and had trouble seeing where we were among all the callers, as apparently we kept moving around.
So, the stream that is now available is a distilled, edited version with all the gaps, pauses and problems removed. It's probably still over four hours of incredible information nonetheless.
The other problem is that so far we have not been able to locate the video file on the Livestream server. If anyone captured the video live, please let us know — as we very much want to edit and post-produce it so that's part of the show.
Everyone but Richard was on webcam and we did get a good sync between audio and video, and no frame-dropping — so once we get rid of the pauses that should definitely add something!
Project Camelot in particular was in critical need of emergency financing, and that's part of why I took the time to do this, after a direct, urgent request from a dream. I thank all of you for participating — it really makes a big difference!
We have a robust volunteer staff as well as a small core of paid employees in order to maintain this site, its functions and all our conference work — and some of our conferences do not generate much revenue due to the extreme costs of hotel rental space, airfare, lodging, AV rental, et cetera — so your support is greatly appreciated!
Looking forward to Tuesday night! I will get the Fulford interview out soon, but right now I am in massive 'deadline mode' to finish this book, as I am way behind and it is urgent that I focus and get this done. Hopefully it will be very soon!