On June 6th, 2019, Pete Peterson dropped some amazing new intel in a recorded phone call with David Wilcock — and he was dead of an "accidental injection" on July 11th.
In this feature-length direct-to-YouTube movie, watch David put all the pieces together and bring this amazing discussion right up to the present!
This movie is not to be missed. At the time we are posting this, the video has already had nearly 50,000 views despite massive shadowbanning and inside tampering.
The truth is unstoppable!
A FINAL TRIBUTE TO PETE PETERSON
Pete was "the best of the best" in terms of insiders, and also very much like a second father to me.
His loss was very hard for me to take, particularly after discovering that it was due to an "accidental injection."
Pete's death happened to occur on the exact same day that another high-level insider of mine was found face-down dead in his apartment.
Woody died immediately after signing off on a world-changing deal for a complete overhaul of the financial system.
Ross Perot, another would-be insider and supporter of ours, died just two days before Pete on July 9th — the same day Woody helped to ensure the new financial deal was signed.
Perot was a key mega-financier of the Alliance, and thus again the timing of his death does not at all appear to be an accident.
WE ARE BEING STALKED LIKE NEVER BEFORE
Compounding matters further is the fact that we have been relentlessly stalked like never before by a highly organized group of people online.
This group includes former friends and allies of mine. We are not yet certain how far-reaching this goes, but there are plenty of indications.
No matter how badly we are threatened, no matter how many insiders die, these people think it is hilarious to attack, defame, intimidate and harass us.
Strangely, there are several individuals who literally do nothing with their lives but publicly attack me, my wife and my allies on a daily basis.
This has most definitely elevated to the level of a dangerous, if not murderous obsession. These people are sick.
I had honestly wanted to see what would happen if I took several months off, in light of these violent threats. The stalkers simply kept repeating the same lies, day after day after day.
We are dramatically stepping up our countermeasures against this insidious attack, and will have far more to say on this as time goes on.
CHECK OUT THE NEW FILM!
I don't want to repeat everything the film says in writing. It was a great deal of time and effort putting this together, drawing upon a variety of skills, and the movie speaks for itself.
I gave it the full cinematic opener with an After Effects sequence, tons of B-roll, camera work, you name it… and the beginning and ending were only shot a few days ago.
Therefore, without further ado, here it is!
REGARDING THE FUNDRAISER….
One of the main attack points from the organized stalking syndicate is this ridiculous idea that I "stole" the fundraiser money for Pete from August 17th, 2017.
As you can see, at one hour and 23 minutes into this movie, I feature a brief excerpt of a much wider conversation I had with Pete about this subject before his untimely death.
There is much more detail to the recording in the questioning with Pete over this issue if I end up needing to use it in future litigation.
Pete confirms at 1:23:49 that he received "about 55,000 dollars" from the fundraiser.
After we posted this video, certain commenters still refused to let go of their tired, old attack, such as the following:

Sure, I'll bite. I am very tired of this nonsense.
I wrote GoFundMe on April 19th of this year, asking for an official statement to address this defamatory accusation, repeated by literally thousands of people.
[This is still a very statistically insignificant portion of our overall audience, and thus I did not bother to do more with it at the time. They do not care either way.]
Here are two screen captures of the response I received: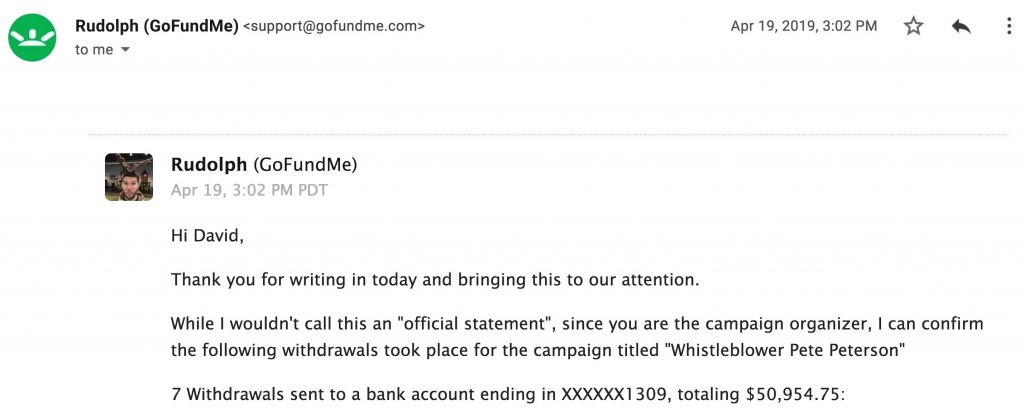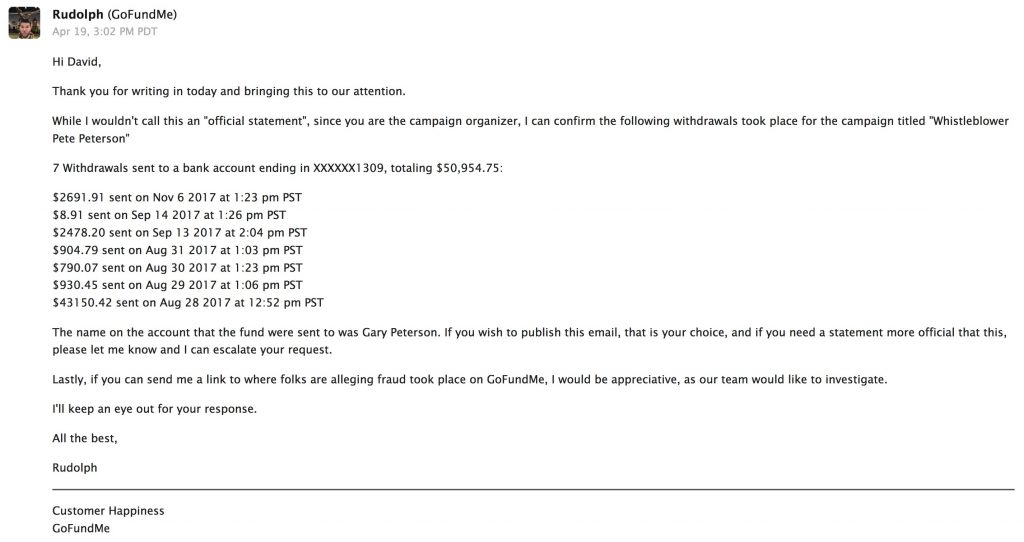 Pete's real first name was Gary, but he hated it, and used the alternative first name to help increase his personal safety.
As I say in the film, it was very, very difficult just to get power of attorney so I could ensure that the funds were transferred to Pete's account without him doing it himself.
Furthermore, I didn't even create the fundraiser. It was created by a private individual going under the name Coco Luau.
GOFUNDME TOOK EIGHT PERCENT
Now before anyone gets excited about the $50,954.75 amount not being the full $55,710, it is a provable fact that GoFundMe was taking a total of eight percent out of all fundraisers at this time:

This practice was modified just a few months after our fundraiser took place, but it was still in force as of August 17th, 2017:

Here again, is the full amount of Pete's fundraiser as it appears on the GoFundMe page today — $55,710: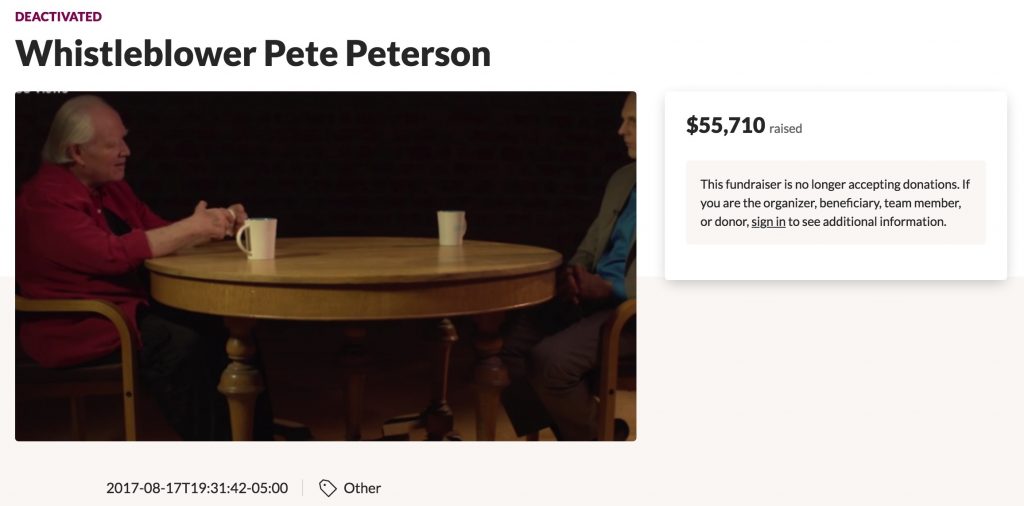 CRUNCH THE NUMBERS (FOR THOSE WHO STILL WILL NEVER BE CONVINCED)
Now let's do the math.
55,710 x 8 percent (55710 x .08) equals 4456.80. That was GoFundMe's approximate cut. They admittedly did very well.
55,710 minus 4456.80 is 51,253.20.
AHA, the stalkers will say!
There is still a discrepancy of approximately $298.45 between 51,253.20 and the amount transferred to Pete, which GoFundMe certified as being $50,954.75!
OH MY GOD! DAVID STOLE NEARLY THREE HUNDRED DOLLARS FROM PETE!!!!
Not so. The credit card processors also take their cut. If you count approximately 30 cents per donation for approximately 995 donations, there's your 298.45 ($298.50 in this case.)
I rest my case.
(mic drop)
EXCITING TIMES ARE AHEAD
In recent Q posts, they indicated that they may delay the release of the FISA report beyond when they had telegraphed it to be, as a further psych-out to the Deep State.
Either way, I do believe it won't be long… and from everything we are hearing from insiders and Q itself, "It's Going to be Biblical!"
Q also just started posting again today, December 14th, so check it out! Exciting, world-changing events are ahead.
Apart from that, there is extensive evidence that our new video is being heavily censored and shadow-banned.
If you are on Gmail, for example, please let us know if you are still receiving our emails.
Though this is a free, non-profit movie, our email announcing it immediately got labeled as SPAM as soon as it came out:

The first two emails at 8:34 were the test emails before I sent it out. This was an instantaneous kill.
I am also receiving reports that some colleagues never got the email at all, not even in Spam or Trash, if they are on Gmail.
Please make sure to sign up with your email address at the top of this page if you haven't already done so. The suppression is massive at this time.
The Alliance is going to do their thing, but it is anyone's guess how messy things will get before freedom is restored.
BANNED FOR LIFE
This suppression also includes Facebook banning our new film, The Cosmic Secret, for life — despite us being well within all respectable guidelines for advertising.
Here is a recent Facebook post from Corey Goode about this stunning attack.
The advertising manager for our indie studio, 1091, said she's never seen anything like it.
If the things we are talking about in this film were not true, as attackers insist, then why all the fuss?
https://www.facebook.com/BlueAvians/photos/a.1467896910174767/2307067892924327/?type=3&theater
OBVIOUS HIT SUPPRESSION
It also again appears that the hit counter on our new Pete video is being very heavily modified to reflect far smaller numbers than it normally would have.
I have been collecting evidence to that effect.
This may very well be a phenomenon happening to independent creators across the board.
Since this new attack, every colleague I know is experiencing 4-5X less traffic, if not more.
As one example, in the middle of a launch day with massive promotion, the hit counter remained virtually unchanged for thirteen minutes, between 5:16 and 5:29 PM:

5:16 pm

5:29 pm
You can confirm this with the timestamps in each of these image files. This is utterly unprecedented and statistically almost impossible.
Given the massive platform we have that can instantly reach well over 300,000 people, and that a free movie is nearly irresistible, these numbers are much too low.
Our typical YouTube performance metrics before this new wave of censorship would have been well over 100,000 by now, if not 300,000 plus.
I wouldn't at all be surprised if the real amount of hits we are getting is 10X greater than what the counter is configured to show, so just add a zero to whatever you see.
THANKS AGAIN!
Thanks again for your loyalty and support!
For those asking about the next Ascension Mystery School, we are indeed planning on launching a sequel to it in the Spring.
I have a variety of new things I am developing for it, so this will not be repeated material beyond a certain, limited degree.
I did also stay up late and participate in the Live Chat during the premiere, so you may want to check that out for extra entertainment!
We do love and appreciate you, and are glad to have you on our journey with us. Enjoy the show!