Thursday 1 / 29 / 09
David just appeared on Myth or Logic Radio tonight, 7PM ET / 4PM PT. Now you can download and listen to the whole show at your leisure!
ANOTHER GREAT SHOW… ALL FOR FREE!
One of the reasons why I consistently do Myth or Logic Radio is you get a dedicated MP3 download link after the show. It's totally open-source, requiring no subscriptions or one-time payments.
I get the opportunity to offer my perspective on events, and share my energy with a very bright man who acts as an excellent 'anchor' for the words to come through.
Unexpected surprises can occur in radio as well, when you're not simply doing your own show as I've often also done. And in this program we run the gamut through a wide variety of different things I've discussed over time — probably a lot more variety than I would have done had it just been my own show.
ELEVATE FILMS
I began the show with a discussion of some very recent new energies that have emerged on the scene in my own life. Although it is very preliminary, and by no means a done deal, there is the possibility of a direct collaboration with Elevate Films in some way.
There's an astonishing amount of synchronicity that has surrounded this, including my putting out a call to the Universe (which I rarely ever do because it can be dangerous — "be careful what you wish for because you just might get it!") to bring the people and the situations we need to make Convergence a reality — and Elevate contacted me not 36 hours later.
As time went on, I was thinking through whether to take the invitation or not. I went and looked at the page where you can order their first feature DVD product — a documentary on Michael Beckwith — and saw this humorous area where you can submit your name and email address to gain access to a free promotional featurette:
I laughed when I saw the line that said "YOUR LIFE PURPOSE (optional)" as it felt like a playful metaphor that was so true. You can CHOOSE whether to follow your life's purpose or not… it is optional! I wanted to make sure that when it came to putting my ideas into film, I was not "opting out" of any and all possibilities!
As I thought about this for myself, and laughed at the joke, my whole room started turning in circles. Quite literally there was an earthquake — a small one, with no aftershocks. It wasn't my imagination — the room actually shook as I had this realization about Purpose. That definitely caught my attention!
MORE SYNCHRONICITY
I must also say I was very impressed with the Elevate studios. I first went up there and didn't even realize I had reached the right place. The doors open to a rooftop, and it doesn't even seem like anyone would live up there. I ended up going back down the elevator, seeing if there was another elevator or anywhere else to go, and there wasn't.
I headed up the second time and my contact, who goes by the assumed name Otis Funkmeyer, had arrived to greet me. There are a series of videos entitled "Meet the Funkmeyers" you can see on the Elevate Films page and they have a zany, seize-the-moment, be-yourself quality that conveys some admirable spiritual insights!
I really enjoyed the whole facility. Otis lives in a Mongolian "Yurt" on top of the building, so here you are in the middle of LA and yet you feel like you're in a Paradise. I was really quite impressed!
On the way back from my first informal meet-and-greet at their impressive studio facility in downtown LA, I called a good friend of mine who is involved in Hollywood post-production and compositing. I wanted to see if he was home so I could stop by and hang out with him on the way home, since it is about halfway.
He wasn't home — he was at a meeting — but he was dazzled when I said I was coming back from Elevate studios.
Why, do you ask?
After three months where we hadn't even spoken — due to both of us being so busy — my friend had also gotten a strong call to meet up with Elevate.
He had a meeting with one of their senior staff THE VERY DAY BEFORE I went there myself!
Even more strangely, I had originally pushed for MY meeting to have been the day before as well!
You can't ignore such redundancy of symbolism. It's always there if you choose to look for it.
My friend's guidance included the fact that a community is forming around Elevate that will be increasingly important to our collective evolution. He wasn't sure why… he just knew he had to check them out. We were both astonished at this synchronicity!
SPIRITUAL EVOLUTION IN ALL AREAS, INCLUDING FILMMAKING
Part of what I've now seen is that the old ways of doing things have changed.
Films can now be made with a much smaller budget, and in much less time, than ever before.
Elevate started as a film festival here in Los Angeles. Filmmakers are given a script, and they have only seven days to take that concept, which they've never seen before, and turn it into a finished product.
The best submissions are then aired at the festival and combined into a DVD. You can see sample videos and find out more at elevateexperience.com.
This "guerrilla filmmaking" is what has conditioned the core staff to be able to create high quality output, at low cost, in much shorter periods of time.
This is definitely a part of the new energy we're moving into, and is also a clear function of the changing economy. People still wish to express their creativity in all forms, including film, and this is a great way to go about doing it.
I explain all the details I now have at the beginning of the show. You can go see their website yourself at elevatefilms.com.
SPIRITUAL LIBERATION
Elevate Films has just released their first feature film — a documentary on Michael Beckwith entitled Spiritual Liberation. It walks you through a day in Michael's life, from his morning routine, through a Sunday service he gives, and on into a dinner party he has with friends afterwards.
It sounds simple but I really liked it. Very organic and community-oriented filmic storytelling in documentary form.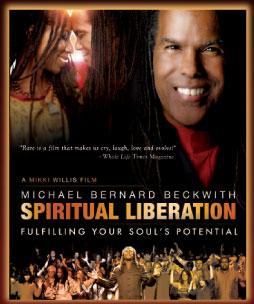 I am one of the very first to have a copy of the DVD sitting here on my desk, since it literally just came out, and I am very impressed with it. Nuggets of spiritual truth are nestled in with scenes that give you time to absorb and digest the material, and feel the community and the integrity that has formed around him.
You can see a trailer for the film by linking to it from the Elevate Films homepage.
Again, it's too early to tell what, if anything, might come of this potential collaboration, but every Elevate team member I met is operating on a refined spiritual level and sincerely wants to improve the world. Their first full-length film with Michael definitely has a look and feel that communicates that same 'group vibe' they've created at their studio in an effective way on film.
The opening, which you can see in the free trailer, is a real 'grabber' in the Hollywood tradition, and immediately engages you in Michael's story, even if you've never heard of him before.
GET IT OUT NOW AND GAIN MOMENTUM
Another point I make in this latest radio program is that we're now only three years away from January 2012. I do feel this year is of great significance, and therefore we need to get our best content out there, and have time for it to make the rounds in the mass consciousness, prior to this year.
For that same reason my new idea is to get some of the very best content out in a documentary, such as with Elevate Films, in a very far-reaching, hard-hitting grand summary. I've already been planning to do this, as I've been announcing with the formation of the visual FX team, and now help may have arrived.
By doing this there is now an all-in-one package of disclosure — of a variety of different liberating scientific and spiritual truths.
This documentary can then start capturing attention, gaining momentum, and steering us into the direction where we attract the interest and financial backing to produce Convergence, our more-expensive feature drama.
We have put the 'feelers' out for this financing for over three years now, and have still never raised more than a fraction of what we had hoped… so I feel we must adapt to the circumstances accordingly, and get SOMETHING out there even while we approach our larger goals at the same time.
Thankfully, Billy and I now agree that we have a 'locked' script that can be shopped to any and all potential investors. We also are planning on creating a ten-minute Convergence investor DVD that will give an overview of the science, interview both of us, and give a sense of what the film is about and what we feel it can do for the planet.
As far as a possible collaboration with Elevate, or a similar documentary idea as I was planning to do on my own — the sequel to 2012 Enigma — I can't go wrong. Once there is a finished product like this, we have a filmic statement that can be even more effective in generating buzz amongst the many different people who could be in a position to finance, produce and possibly star in the feature drama. And I really like Elevate's style.
In the meantime, while we chase the Grand Prize of getting Convergence made as a feature drama, no matter what I can insure that another, less expensive and far easier to make film will be released in the meantime.
We then answer the call from so many of you who are practically begging to see my unique content realized in a much more substantial form, so I don't have to field the 2-10 "Can't Wait To See Your Film, When Is It Coming Out" letters I get every day!
VISUAL EFFECTS
For those of you in our volunteer visual effects group — particularly the 3D animators since that work takes more time and is more urgently needed — get ready, because within a week or less we should be ready to network and start discussing what needs to be realized into motion graphics for this pending documentary.
If you are new to this website, have 3D animation skills and would like to be involved on a volunteer level with the documentary, including the possibility of being hired on for the larger-budget Convergence feature, send me an email right away, as the proverbial Train is Leaving the Station.
I'm not entirely sure but I believe we have over 25 3D animators at this point — the vast majority of whom are extremely talented and capable. We will need everyone to be honest about what they can do, how much they can do and how fast they can do it, so we get a coordinated team effort and deadlines will be met accordingly. Of course, quality and efficiency are the two key considerations that must dance hand-in-hand.

IN OTHER NEWS…
I have been very focused since I got back from Texas. I've put together my home studio to do 'drum passes' on all the songs on Wanderer Awakening, so that by the time I return in March we will have far more realized drum parts on the songs.
We've already got a finished drum part and a semi-final mix on our song "Listen to You," which we should be prepared to debut on Coast to Coast with George Noory once we are asked back on.
If George's word on the air holds true, (as well as what the producer told me off the air,) there should be a one-hour slot coming up for me some time between now and the Conscious Life Expo the weekend of Valentine's Day.

My conference registration numbers are neck-and-neck with Zecharia Sitchin (who speaks right before me) and David Icke, so I'm in the top three this year in terms of draw at the Expo. It's very exciting!
If you'd like to attend this historic event — on the one-year anniversary of the filming of 2012 Enigma — you can go to consciouslifeexpo.com and click on my picture for registration information.
If we get a full camera crew deployed on-site, you may be featured in the new film as part of the "audience reaction shots" — so that is also a consideration!
If you have a steady hand and would like to volunteer some professional camera experience, we could always use more eyes on the ground while filming the Expo — so let me know.
What we will need the most, with some central team coordination, is people who can be mobile, without blocking other shots, and capture audience reactions, close-ups on me, et cetera while they're on foot, without a tripod.
Here's the specific schedule information, copied over from my previous post:
Here are the confirmed events and where you can find them on the Conscious Life Expo website, so you can buy tickets (which may well sell out in advance) and plan your schedule:
AND NOW, ON WITH THE SHOW!
This is another classic radio program. I ended up getting confronted by a caller who was reading from a prepared list of purported truths about Obama, and went into as much detail as I probably ever will about why I feel this presidency is not at all the same-old-same-old.
Some or all of the things he read may be true, but as I said in the show, if you're still caught in an us-versus-them mentality, you haven't accepted the greater truth: There's Only One of Us Here. I went into great detail about this in the previous David's Blog post but "love your enemies" is not an easy lesson for people to get.
It's not hard to see the changes in the way things are being run if you look for them. I have been very encouraged by what has already happened since the inauguration.
It is also important to remember that such a massive grassroots support movement has grown up around Obama that if he did NOT adhere to his campaign promises, the public is now more centralized and aware than ever before… and "Business as Usual" simply cannot happen.
Furthermore, it would be wonderful if we can finally get a real Disclosure to happen, rather than continually wishing for it with no results.
I hope to position Convergence, 2012 Enigma and any other films I do to be a key part of that disclosure, and widen the scope well beyond simply asking the question of whether or not we are 'alone in the universe.'
In this radio show, you not only hear my answer to that question, but you get to experience the energy that is created when I go into the awareness of Oneness and then communicate from that place.
I think you'll like it.
CLICK HERE FOR THE MYTH OR LOGIC SHOW HOMEPAGE!
UPDATE FRIDAY, JANUARY 30
Last night, around 11:15 pm, I got a call from Tom Danheiser, the producer of Coast to Coast AM with George Noory. The good news is that I WILL be on for a full hour next Friday night, to discuss the US Airways 333 event and how it refers to an archetypal shift in our society between "death" and "rebirth".
Pending final review of our song "Listen to You," which we've promised to deliver to them no later than Tuesday, they will play it from their studio live on the air for you to listen to.
And, even better, if they decide they like it, we have already OK'd a mutual agreement to let them use it as bumper music!
Of course, we are honored by this offer and will glady accept. (Duh!)

Thank YOU for your ongoing support, encouraging emails and good thoughts. The detractors are in a very small group… in fact there's one young guy who is responsible for the majority of negative emails I receive. Thanks, dude. At least you got some publicity for it in a recent blog. I still haven't tried singing and masturbating at the same time but I'll let you know if it works.
Every communication is positive in the sense that you can always learn by seeing what others think about you, even if it seems nothing more than an unfair projection of their own shadow, as I said in the previous article.
Move back to love — which in these cases goes hand-in-hand with honorable withdrawal from engaging in these energies — and you can't go wrong!