PART ONE: OVERVIEW OF MASS ARREST PREDICTIONS SINCE 1999
PART THREE: STUNNING NEW BRIEFINGS
MEGA ANON APPEARED JUST BEFORE Q ANON

As you can see in Part One, we've been anticipating mass arrests of a genocidal cabal of world elites on this site since at least 2008, with insider data.
These people literally wanted to kill billions of us, and continue desperately trying to do so. Therefore, some form of mass arrests are absolutely necessary.
We also were getting mysterious, dream-like prophetic data about mass arrests since at least 1999, and possibly as far back as 1996.
In 2017, I began covering the story of Mega Anon, an insider with seemingly close ties to Trump who was also predicting mass arrests in very specific detail.
Here is a link to the Reddit archive of everything she wrote. It is quite extensive and does not have the cryptic qualities of Q Anon.
Unfortunately, it appears that the archived links to what she wrote are now broken. I haven't checked them all yet.
I do feel I pulled many of the most important quotes from them in my articles.
You can still read a text file with the complete collection of Mega Anon posts in it, at this time, by clicking here.
LET'S PULL A FEW QUOTES
It is very interesting and revealing to visit the above Reddit link and read the excerpts that this user pulled out from the mass of content.
Mega's quote from October 6th, 2017 still really stands out for me:
The goal is that when it's all said and done, there will be no room for question, when it comes to the people.

He won't have to disclose s#!t like 9/11, OKC, Vegas, Voter Fraud, Russia hacks or collusion, elections rigging, etc. specifically.

When he's done, it will be a literal "mic drop" on the world's stage.

No one ever again will have the ability to question who's responsible for, involved in coordinating, etc. ANYTHING that has ever happened and been considered a "conspiracy theory", ever again.

When he's done, the entire world will just KNOW IT ALL. It really is THAT all-encompassing. Like Trump says, "you'll see". It just has to happen. We cannot be derailed. Ever again.
Next, consider these words from May 27th, 2017:
You don't have to like Trump. You don't have to support him and you don't have to vote for him in 2020. It's not about Trump. This far precedes him.

Don't get caught up in the politics of it all because like your opinions, neither of them matter. We don't have "parties". We don't "elect" those who represent us.

We don't have (and haven't for a VERY long time), the freedom of "choice". (((They))) just let us THINK we do to divide/control us.
And consider this line from December 15th, under "SOMETHING BIG IS COMING! COMEY REFERENCES NUREMBERG":
I mean, this IS what's happening. It's fact. Accept it now and move on.

You don't need to make this political because (you) don't like Trump. It's not about Trump. That's what they want you to think.

This is about all of them, the dirty establishment and YOU mattering again.

When this is over, you won't be Democrat, Republican, Independent, etc. You'll hate them all.
IN-PERSON CONTACT — COVERED IN A THREE-PART ARTICLE SERIES
She eventually reached out to me and spoke to me on several occasions late last year before cutting off all contact. I do hope she is okay.
It was very clear that she had extensive knowledge of the Alliance plan for mass arrests, and how far back in time it really went.
She wrote it all out on 4Chan, and I was stunned by how much it matched the intel I was receiving from other sources.
She made multiple remarks in our conversations that indicated she had direct, face-to-face access to DJT on multiple occasions.
I presented detailed coverage of her shocking material after the highly suspicious and traumatic Vegas shootings of October 1st, 2017.
Among other things, we heard rumors that POTUS himself was at the hotel in question on that very night, and the shootings were partly intended to stage an assassination that failed.
A good bit of timely investigative material on all of this was released in the Something Very Big is Coming article series, as follows:
Vegas Terror and Disclosure: Is Something Very Big About to Happen? October 11, 2017
Something Very Big is Coming, Part II: Is Wikileaks About to Drop the Nuke? October 22, 2017
Something Very Big, Part III: Saudi Mass Arrests Sign of Impending Cabal Defeat? November 13, 2017
MEGA ANON MAY HAVE INSPIRED Q ANON
Mega Anon's work may well have given the Alliance the inspiration it needed to discover a way to communicate securely to the public, as well as to their own covert units.
The first Q Anon posts appeared on 4Chan just seventeen days after I threw Mega Anon's 4Chan work into the limelight with Is Something Very Big About to Happen?
I must say that I am very, very happy that the Alliance has started communicating their plans openly to the public through the Q Anon posts.
I was aware that these plans were in the works for many, many years, and often felt as if I was one of the only people out there telling you about it.
I have supported the Alliance military and intelligence community in what they are trying to do with this enormously complex operation all along.
That might change if they start trying to justify murdering everyone in the sealed indictments, but again, we also have intel that major prison facilities are being readied.
I wouldn't care whether a Democrat, Republican or Independent was helping the Alliance. We simply need to see the job get done so our planet can heal.
Q ANON HAS GONE WAY BEYOND WHAT I CAN COVER ON MY OWN
The Q Anon material is now so vast and extensive, with multiple updates often coming in on a daily basis, that it is way beyond my personal resources of time and energy to research and cover it all.
[The last year has been the busiest of my life, between planning a wedding, buying a house, moving out of state, doing several conferences and working on a major new book all at once.]
In fact, I don't think any one person could properly interpret and present all the Q Anon information at this point as it keeps coming out.
The sheer volume of raw data being put out by Q Anon has led to legions of online journalists putting the pieces together in articles and videos, which is terrific.
Part of my intention in writing Parts One and Two is to establish the historical context of how long I have been covering this story, along with some of the biggest highlights.
I also wanted to make the point in Part Two that Obama was apparently working with the Alliance to create disclosure in 2009 as well, and received his own death threats.
This planet-saving effort is therefore not at all a partisan issue. The track record of journalism I have on this site about it makes that point very clear.
ONE OF THE FIRST Q STATEMENTS IS STILL ONE OF THE BEST

The Vegas shootings occurred very soon after the sealed indictments began to be filed. That may not have been a coincidence.
Additionally, the Q Anon briefings began as of October 28th, shortly after the appearance of the masses of sealed indictments had begun.
In the beginning, Q Anon gave an uncharacteristically direct set of text that laid out the blueprint for mass arrests, as I quoted in Something Very Big is Coming, Part III.
Q admitted that they had to put out disinformation at times for operational reasons.
Therefore, the idea that these operations would begin in "the next several days" was incorrect.
However, Mega Anon told us that there was indeed a plan on the books to do the arrests within this exact timeframe, as a reaction to the Vegas atrocities, and they had to be scrapped.
Apart from that glitch, for whatever reason it may have happened, we got a remarkable view of what the mass arrest scenario will be like:
-BEGIN EXCERPT, NOVEMBER 1st, 2017-
https://archive.4plebs.org/pol/search/uid/pGukiFmX/order/asc/
Anonymous ID:pGukiFmX No.147567888 ViewReport
Q Clearance Patriot
My fellow Americans, over the course of the next several days you will undoubtedly realize that we are taking back our great country (the land of the free) from the evil tyrants that wish to do us harm and destroy the last remaining refuge of shining light.
On POTUS' order, we have initiated certain fail-safes that shall safeguard the public from the primary fallout which is slated to occur 11.3 upon the arrest announcement of Mr. Podesta (actionable 11.4).
It is quite possible that the Podestas and Huma Abedin are in these same sealed indictments, exactly as Q Anon leaked in advance.]
Confirmation (to the public) of what is occurring will then be revealed and will not be openly accepted.
Public riots are being organized in serious numbers in an effort to prevent the arrest and capture of more senior public officials.
On POTUS' order, a state of temporary military control will be actioned and special ops carried out.
False leaks have been made to retain several within the confines of the United States to prevent extradition and special operator necessity.
Rest assured, the safety and well-being of every man, woman, and child of this country is being exhausted in full.
However, the atmosphere within the country will unfortunately be divided, as so many have fallen for the corrupt and evil narrative that has long been broadcast.
We will be initiating the Emergency Broadcast System (EMS) during this time in an effort to provide a direct message (avoiding the fake news) to all citizens.
Organizations and/or people that wish to do us harm during this time will be met with swift fury.
Certain laws have been pre-lifted to provide our great military the necessary authority to handle and conduct these operations (at home and abroad).
POTUS will be well insulated/ protected on AF1 and abroad (specific locations classified) while these operations are conducted due to the nature of the entrenchment.
It is time to take back our country and make America great again.
Let us salute and pray for the brave men and women in uniform who will undertake this assignment to bring forth peace, unity, and return power to the people.
It is our hope that this message reaches enough people to make a meaningful impact.
We cannot yet telegraph this message through normal methods, for reasons I'm sure everyone here can understand.
Follow the questions from the previous thread(s) and remain calm. The primary targets are within DC and remain at the top (on both sides).
The spillover in the streets will be quickly shut down. Look for more false flags – stay alert, be vigilant, and above all, please pray.
"For God so loved the world that he gave his one and only Son, that whoever believes in him shall not perish but have eternal life. Love is patient, love is kind."
God bless my fellow Americans.
4,10,20
-END EXCERPT-
THE EMERGENCY BROADCAST SYSTEM HAS A NATIONWIDE TEST SCHEDULED FOR SEPTEMBER 20TH
I want to note something very important here. One of the very first Q briefings said the Emergency Broadcast System would be used to tell the public the truth.
You just read it yourself. I highlighted the relevant passage above in red. This system apparently bypasses all mainstream and social media censorship and control.
On September 6th, 2018, Q Anon posted information that the Emergency Broadcast System would be tested as of September 20th, 2018: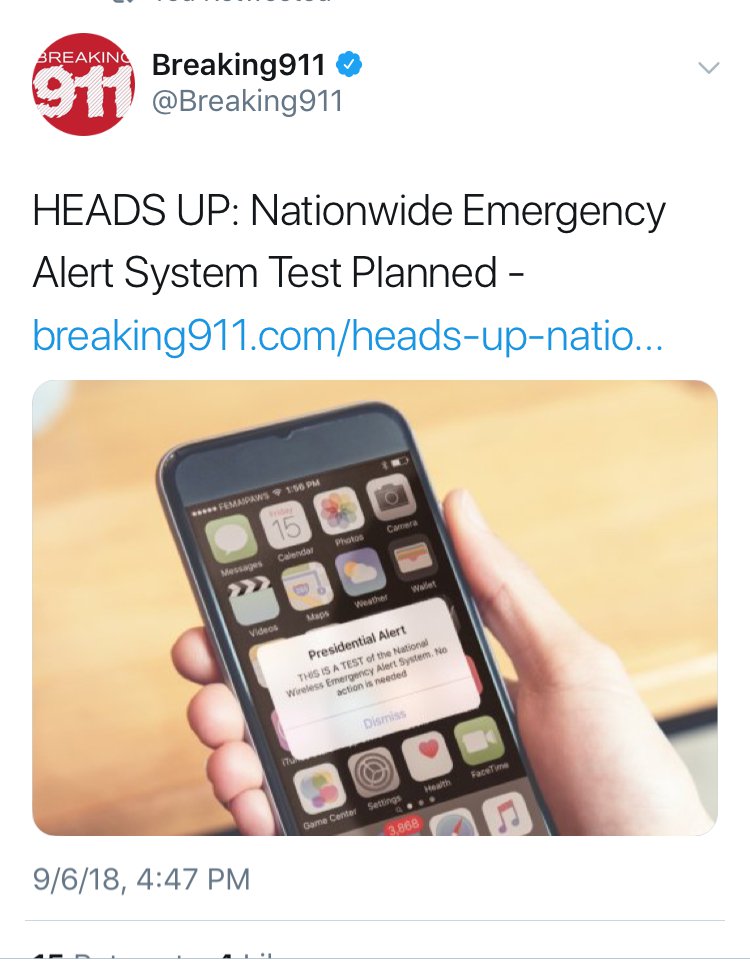 It is easy to miss the text on the phone in the above image, so here it is in a larger form: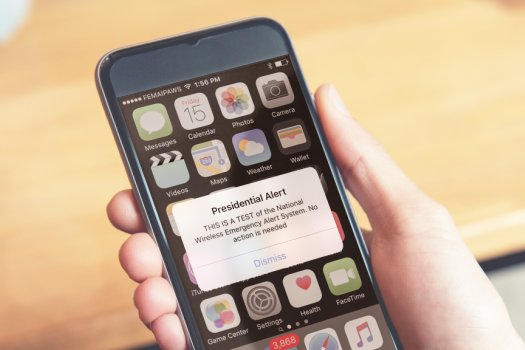 It clearly says "Presidential Alert." Once you see this in context of the other Q Anon posts — it is either very alarming or exciting, depending upon how you interpret all of this.
COREY GOODE INSIDER BRIEFING FROM THE SAME ARTICLE
Here is another piece of intel, now almost a year old, that is still very highly relevant for today, if we are finally on the verge of seeing mass arrests:
-BEGIN EXCERPT-
[11/5/17, 6:49:36 AM] Corey Goode: Wow, just received a briefing.
The military is indeed getting ready for a potential decapitation of the Cabal with surgical strikes by SF [Special Forces] Teams.
They are already training by taping out floor plans of their targets on the floors of hangars and practicing kicking in doors.
They are also being briefed on their potential targets.
A "limited coup" is looking more and more likely.
In the briefing they once again stated the importance of having a minimum of 2 weeks of food/water in our homes.
[11/5/17, 6:56:31 AM] Corey Goode: It was further revealed that the Secret Grand Juries were almost totally complete with their investigations when everything changed.
They had sealed indictments being prepared when they received a cache of new info that gave them a wider net to cast.
Their investigation has since expanded dramatically….
CG: Most of the operations are non-violent, or what we wouldn't typically think of as military.
They will range from propaganda, electronic warfare and covert teams that arrest people.
Some Secret Service/Body Guard positions were infiltrated, and some of these top figures are basically in custody and don't even know it.
Many of the targets of these operations have their jets on 24-hour standby notice. Pilots are sleeping at air hangars, ready to leave at a moment's notice.
Many of the targets of these operations have been denied safe haven in some of the bunkers where they were promised sanctuary, which is typical Cabal.
The planes will be intercepted by the US Air Force if they try to leave US Airspace.
The hangars are under observation and they now have a way to shut down all underground shuttles simultaneously.
-END EXCERPT-
AND NOW, ON TO THE SATELLITES….
We are admittedly skipping over hundreds, if not thousands of newsworthy items to get us right up to the present, with the big news that hit as of August 30th.
Q Anon began releasing a cryptic series of posts, as follows:
Q

!!mG7VJxZNCI

ID: bd6786

No.2804728 

SNOW WHITE 3 NOW OFFLINE.
Q
Q

!!mG7VJxZNCI

ID: bd6786

No.2804815 

>>2804728
SNOW WHITE 4 NOW OFFLINE.
Q
Q

!!mG7VJxZNCI

ID: bd6786

No.2804843 

>>2804815
SNOW WHITE 6 NOW OFFLINE.
Q
Q

!!mG7VJxZNCI

ID: bd6786

No.2804887 

>>2804843
SNOW WHITE 7 NOW OFFLINE.
PACKAGE COMPLETE.
HAVE A NICE DAY.
Q
Q

!!mG7VJxZNCI

ID: bd6786

No.2805130 

>>2804887
[DEAC>KILLBOX1AZB]
CORONA 1 NOW OFFLINE.
Q
Q

!!mG7VJxZNCI

ID: bd6786

No.2805156 

>>2805130
CORONA 4 NOW OFFLINE
Q
Q

!!mG7VJxZNCI

ID: bd6786

No.2805214 

>>2805156
CORONA 8 RE_ROUTE T_83
CORONA 8 NEW CONTROL.
CORONA 8 NOW OFFLINE
Q
Q

!!mG7VJxZNCI

ID: bd6786

No.2805260 

>>2805214
CORONA 16 TASK ROUTE Z8301
CORONA 16 NOW OFFLINE
Q
Q

!!mG7VJxZNCI

ID: bd6786

No.2805326 

>>2805260
BLIND EYES IN THE SKY.
SHALL WE PLAY A GAME?
Q
LET'S HOLD ON A MINUTE RIGHT THERE….
I was ten years old when the movie WarGames came out in 1983. It had quite an effect on me at the time, conclusively proving nuclear war was ridiculous.
It all centered around a hacker kid who broke into the US nuclear launch computer systems, named WOPR or War Operations Planning and Response — and nearly started a war in the process.
The line "Shall We Play A Game" comes from the following scene in the movie:
The signature line from this movie comes at the end, when the artificial intelligence of the WOPR computer, calling itself "Joshua," concludes that nuclear war is unwinnable.
It wargamed out all possible outcomes of global thermonuclear war, and concluded "the only winning move is not to play:"
https://en.wikiquote.org/wiki/WarGames
Joshua/WOPR: Greetings, Professor Falken.
Stephen Falken: Hello, Joshua.
Joshua/WOPR: A strange game. The only winning move is not to play. How about a nice game of chess?
Q's quote of this famous movie line indicates that the Snow White and / or Corona satellites may have also been related to nuclear guidance systems.
Therefore, Q may have anticipated that the Cabal could have launched some sort of nuclear attack before the arrests, and now they will not be able to.
This WarGames quote also implies that Q realizes "the only winning move is not to play" when it comes to nuclear war, and therefore it will be prevented.
ADDITIONAL SATELLITES DOWN
Another group of satellites apparently were taken down right after the above, as follows:
Q

!!mG7VJxZNCI

ID: 564cef

No.2806559 

BIG BIRD-9 NOW OFFLINE.
Q
Q

!!mG7VJxZNCI

ID: d9f30e

No.2807174 

GCHQ Bude sent DISTRESS SIG 8:09 EST.
NSA NO MORE.
Q
Q

!!mG7VJxZNCI

ID: d9f30e

No.2807228 

>>2807174
Main frequency bands TERMINATED.
#Goodbye
Q
Q

!!mG7VJxZNCI

ID: bd9bfd

No.2810036 

>>2809946
>>2809954
>>2809955
>>2809980
yup, DDOS, 502s, and captcha
with means OVER THE TARGET
>>2809985
kek
>>2809998
Retaliation – 'Horizon' active.
Q
The last quote suggests that some sort of retaliation against the Deep State is taking place, likely with the code-name "Horizon."
THEN ON SEPTEMBER 1ST…
The above quotes seem to imply that the GCHQ and NSA's mass surveillance system was completely cut off by these actions.
We have phrases like, "BLIND EYES IN THE SKY," "Main frequency bands TERMINATED, #Goodbye," "Retaliation", "OVER THE TARGET" and "NSA NO MORE."
Their computers also seemed to be down, as implied by the phrase, "DDOS (Directed Denial of Service — a hack attack) 502s (bad gateway error, which is usually a server meltdown), and captcha."
Later Q briefings suggested that one of the effects of this action was to force Deep State leaders to huddle together in person in order to have any communication.
This was mirrored in another Q Anon post from September 1st, which certainly carries a sarcastic tone.
Remember that a SCIF is a surveillance-proof Sensitive Compartmented Information Facility, SS is Secret Service, and the flagging of the word "BILL" suggests this refers to former president Clinton:
Q

!!mG7VJxZNCI

ID: 9da84a

No.2835711 

It must be hard to communicate.
Every moment together is a moment you should not waste.
Former President's are still able to arrange SCIFs?
Does the American taxpayer 'foot the BILL' for the [12] hotel rooms in close proximity to the central SCIF?
SS detail(s) ordered @ max perimeter def?
Nice color choice.
It's a shame the windows had to be blocked out to eliminate that view.
Q
THEN ON SEPTEMBER 2ND….
Even more provocative clues were given the next day, suggesting that troops (Operation Specialists) were preparing for the big mass arrest "event," and would be working in military helicopters, as pictured:
Q

!!mG7VJxZNCI

ID: 04b60a

No.2848806 

Q

!!mG7VJxZNCI

ID: 04b60a

No.2848924 

Anonymous

ID: eafdab

No.2848894 

>>2848806
why did I get extreme goosebumps while listening to this??
ST6.jpg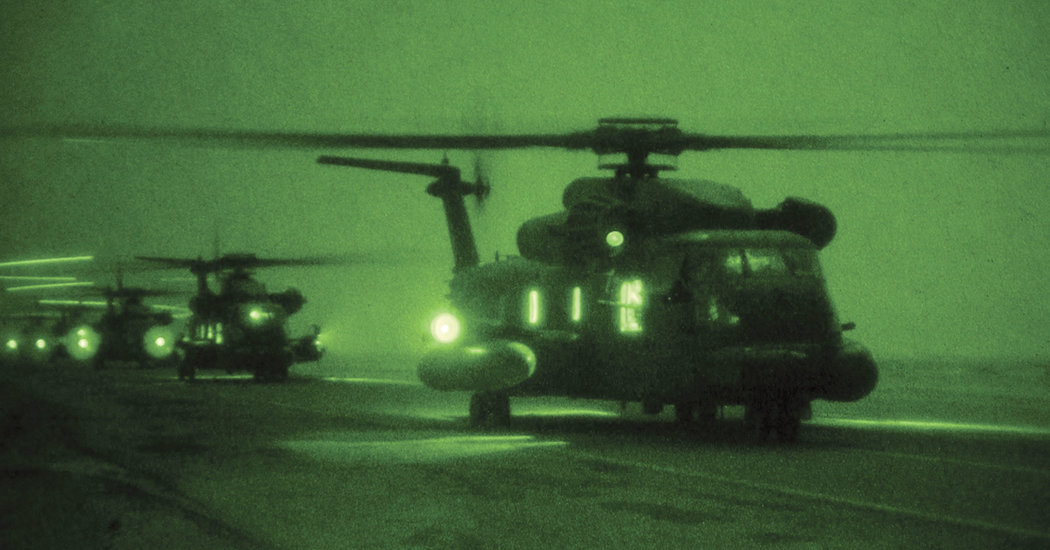 >>2848894
This last image appears to have been taken through night-vision goggles.
This appears to imply that this is a photograph of the helicopters that will be used by "Operation Specialists" in the mass arrests "event."
THEN THE NEXT DAY, SEPTEMBER 3RD….
Another post from the next day, September 3rd, embedded the word DECLAS with a simple numerical code into a statement about an upcoming meeting of Congress:
Q

!!mG7VJxZNCI

ID: a68ba4

No.2863057 

Both [C-3]h[A-5]mbers (House / Senate) in [S-6]ESSION tomorrow.
Where once there was [D-1]ARK
Th[E-2]re is now [L-4]IGHT
Q
The obvious key to decipering this is D-1, E-2, C-3, L-4, A-5, S-6, or DECLAS.
In previous communications, Q had used DECLAS to indicate that information would be declassified.
There are two possible meanings here. One is that information damning to both chambers of Congress will be declassified, and that this would shine "light" on that which is seen as "dark."
Another possible meaning is that Congress itself would be involved in declassifying information that will somehow be damning to the Cabal.
Other briefings have since come in from Corey Goode's sources saying that a major amount of damning new information is about to be leaked.
THEN THE NEXT DAY, SEPTEMBER 4TH….
An image of this same DECLAS message was then brought back again the next day, September 4th.
This time another enigmatic phrase was added, "A Week to Remember." This may refer to this coming week of September 10-16.
It is even possible that the Alliance may want to time something around the anniversary of 9/11, which is on a Tuesday:

A Week to Remember.
Q
Plans like this often get thrown off and delayed by necessity, so I would not presume that any of us could know exactly when this "Week to Remember" will be.
The "Presidential" test of the Emergency Broadcast System doesn't appear until the following week, as of Thursday, September 20th.
Furthermore, it was the entire month of September that was declared "Emergency Preparedness Month," as we are about to see.
THEN THE NEXT DAY, SEPTEMBER 5TH….
At this point we get the Q quote that Dr. Michael Salla used to argue that these mass arrests will involve military tribunals, not civilian cases:
EO stands for Executive Order. HRC is Hillary Rodham Clinton. Again, Dr. Salla's article breaks this all down very nicely.
The bottom line is that an executive order was passed that will allow for the sealed indictments to be processed under military law.
SAME DAY: "WHAT YOU ARE ABOUT TO LEARN SHOULD… SCARE YOU"
This was followed by another message on the same day, clearly forecasting major events that will be unfolding in the near future:
What you are about to learn should not only scare you, but intensify your resolve to take back control [Freedom].
The information that will become public will further demonstrate the criminal & corrupt [pure evil] abuse of power that the Hussein administration undertook in joint efforts w/ domestic and foreign dignitaries.
The snowball has begun rolling – there is no stopping it now. D5.Stay the course and trust the plan.
Protective measures are in place.
Remain BRAVE.
We knew this day would come.
NEXT DAY, SEPTEMBER 6TH: NATIONWIDE EMERGENCY ALERTS PLANNED
Another sign of "big stuff" getting ready to happen was one of the things Q said the next day, September 6th:
Q

!!mG7VJxZNCI

ID: 02b17c

No.2907565 

46480B2E-DF10-4118-975A-1A34DD7B626F.jpeg




HEADS UP: Nationwide Emergency Alert System Test Planned – breaking911.com/heads-up-natio…
>>2907383
As we said earlier, the actual timing of this "Presidential" test is the afternoon of Thursday, September 20th, 2018.
One of the very first Q Anon posts again said they would use the Emergency Broadcast System to bypass media censorship and tell us what is really going on.
NOW CONSIDER THE Q POST FROM SEPTEMBER 1ST DECLARING EMERGENCY PREPAREDNESS MONTH
Then, let's combine this information with a post from Q Anon dating back to September 1st, as follows.
Among other things, we are again encouraged to "sign up for (emergency) alerts on mobile devices:"
Q
!!mG7VJxZNCI
ID: d1b112
No.
2833619
National Preparedness Month is a time to focus our attention on the importance of preparing our families, homes, businesses, and communities for disasters that threaten our lives, property, and homeland.
During this time, we also honor the brave men and women who selflessly respond to crises and disasters, rendering aid to those in need.
These first responders, who work tirelessly to safeguard our Nation and protect our citizens, deserve our utmost gratitude and appreciation….
Tragedies are somber reminders that preparedness is a shared responsibility and that it is critical to maintain readiness.
All Americans can prepare for potential disasters by developing and practicing a family emergency response plan, assembling a disaster supply kit, signing up for alerts on mobile devices, setting aside emergency savings, and maintaining adequate insurance policies for their homes and businesses.
The Federal Emergency Management Agency's Ready Campaign outlines other important steps to best prepare for a major disaster.
This month, I encourage all Americans to take the opportunity to ensure they have an emergency response plan in place and ready to be properly executed.
Emergencies and disasters test the resilience and strength of families, communities, and our Nation. It is impossible to avoid every challenge and threat, but we can and must prepare for them.
By doing so, we can help protect our communities and save lives.
NOW, THEREFORE, I, DONALD J. TRUMP, President of the United States of America, by virtue of the authority vested in me by the Constitution and the laws of the United States, do hereby proclaim September 2018 as National Preparedness Month.
I encourage all Americans, including Federal, State, and local officials, to take action to be prepared for disaster or emergency by making and practicing their emergency response plans.
Each step we take to become better prepared makes a real difference in how our families and communities will respond and persevere when faced with the unexpected….
IF YOU ARE THINKING WHAT I'M THINKING….
If you have read all of this and are thinking what I am thinking, then wow.
There are far too many arrows all pointing in the same direction for us to simply ignore this.
Hence I am writing this all up even though there is extremely bad, almost nonexistent internet access where I am now.
If Q Anon is actually doing a LARP here, (Live Action Role Play, i.e. lying for fun and attention,) then this would destroy all the work, credibility and public attention they have built up over nearly a year.
Some of our audience loves this president and some despise him. I have heard the arguments from both sides in great detail.
Either way, I see how serious all of this is, and therefore feel there is a need to bring it to your attention.
If "nothing" happens, particularly by the end of the year, then it is safe to say Q will have been largely, if not completely discredited, as this is huge.
The need to write this up became even more obvious once I began looking at what other insider or alleged insider sources were saying about these same briefings.
NOW FOR THE BRIEFINGS REGARDING THE SATELLITES….
Here are a series of updates posted on the Hal Turner Radio Show website beginning the night the Q briefings about the satellites came out.
I have featured this website in the past. There are at least some cases where they got accurate intel that matched up with what other trusted sources said.
This article appears to feature intel that was coming in from people in the CIA, and it began with them freaking out that seven mainframe computers went down.
Admittedly, the exact timing of when the Q posts about the satellites first went up was as of 5:30 PM Eastern time, a little less than an hour before this article appeared:
Q

!!mG7VJxZNCI

ID: bd6786

No.2804728 

SNOW WHITE 3 NOW OFFLINE.
Q
Nonetheless, this article is a surprisingly fast response, and the Q Anon websites may not be updating readers on new posts right away.
All of this suggests that what we are reading may be based on insiders having real-time reactions to whatever was going on:
http://halturnerradioshow.com/index.php/news/u-s-national-news/3079-breaking-news-urgent-7-cia-mainframe-computers-down-spy-satellites-offline
7 CIA MAINFRAME SUPER-COMPUTERS DOWN – SPY SATELLITES OFFLINE
Thursday, August 30th, 2018 — 6:24 PM (18:24)
Seven mainframe computers inside the Central Intelligence Agency (CIA) are now offline for an unknown reason.
The loss of computing has also caused a significant number of US Spy Satellites to go offline.
UPDATE 8:33 PM EDT — NUMEROUS COMMUNICATION SATELLITES ARE NOW GOING DOWN AS WELL
We are in potential danger.  I hope your vehicles have fuel and you have emergency food and water on-hand.
There's no telling who did this or why . . . and now that some of our satellites are down, God only knows what may be coming at us.
Developing . . . . check back for updates.
UPDATE 7:55 PM EDT —
Main Frames "Snow White" 3, 4, 6 and 7 are offline.
Sats Offline include: Corona 1,4, 8, & 16 are dark.
(NOTE: CORONA SATS ARE THE DIGITAL "KEYHOLE" REPLACEMENTS FOR THE ORIGINAL DECOMMISSIONED PROGRAM OF THE SAME NAME.)
Additional Sat. Offline: Big bird 9 — "KH-9 (BYEMAN codename HEXAGON), commonly known as Big Bird[1] or Keyhole-9, was a series of photographic reconnaissance satellites launched by the United States between 1971 and 1986."
UPDATE 8:06 PM EDT —
Just spoke to the Pentagon.  The "official" line is "I have no information about any such event.  But if such an event were to occur, we would not discuss it publicly."
BACK-CHANNEL INTEL —
Sources from the Intelligence Community now confirming to me several mainframes are, in fact, offline and several spy satellites are dark.  Techs working furiously to find out what happened and fix it.
Internal assessment thinking is "Someone targeted our spy satellite systems specifically.
"Someone is now moving certain things they don't want us to see being moved.  This unexpected eventuality is major trouble on every level."
UPDATE 8:30 PM EDT —
GCHQ Bude sent DISTRESS SIG 8:09 EST.
NSA NO MORE.
GCHQ Bude, also known as GCHQ Composite Signals Organisation Station Morwenstow, abbreviated to GCHQ CSO Morwenstow,
is a UK Government satellite ground station and eavesdropping centre located on the north Cornwallcoast at Cleave Camp, between the small villages of Morwenstow and Coombe.
It is operated by the British signals intelligence service, officially known as the Government Communications Headquarters, commonly abbreviated GCHQ.
It is located on part of the site of the former World War II airfield, RAF Cleave.
UPDATE 8:33 PM EDT —
All kinds of Imaging & Communications Satellites have now been compromised as well…
UPDATE 10:02 PM EDT —
We are now experiencing an almost complete blackout of most of our "Black-Ops" Signals Intelligence (SIGINT) and Satellite Communications (SATCOM) satellites. 
CIA now unable to perform certain "key hole" surveillance, and there are now GIGANTIC holes in our ability to intercept various signals; i.e. certain phones, certain radios, certain internet coms, etc.
Put simply, certain people who previously thought they ran the world, (i.e. the Intelligence Community within CIA and NSA) are now deaf, dumb, and partially blind.
Something massive is taking place.  Things like this don't just happen.
Not sure where this is going, but whatever it is will be gigantic.
UPDATE 10:12 PM EDT —
CinC NORAD has just declared "DEFCON 4"
UPDATE 10:38 PM EDT FRIDAY 31 AUG. —
The CIA has been trying to restart the super-computer mainframes.  They got three to re-start – and they immediately crashed again!  Four others are simply not restarting at all.
SIGINT and SATCOM capabilities REMAIN SEVERELY COMPROMISED. 
This is now just over 24 full hours that much of our Intelligence Community communications capabilities globally, REMAIN DEAD.
THIS GOES INTO FAR MORE SPECIFIC DETAILS
What I find interesting about this update is that it contains significantly more specific details than what one would have gotten just from reading the Q Anon posts.
Instead of just code names and numbers, we are hearing that the SIGINT and SATCOM systems are completely down.
We are told that this has apparently crippled the ability for the NSA and other groups to conduct mass surveillance on anyone.
This could be a more detailed way of explaining the Q Anon phrases like "BLIND EYES IN THE SKY," "Main frequency bands TERMINATED, #Goodbye," "Retaliation", "OVER THE TARGET" and "NSA NO MORE."
Without the ability to conduct mass surveillance, the "Operation Specialists, Pre-Event" can make their final moves and get in position without being detected.
Thus, as this purported insider source said, "Something massive is taking place. Things like this don't just happen.
"Not sure where this is going, but whatever it is will be gigantic."
THEN WE HAVE THE BENJAMIN FULFORD UPDATE FROM MONDAY, SEPTEMBER 3RD
Just four days after the Q Anon briefings telegraphed the shutdown of covert mass-surveillance capabilities, our long-term insider Benjamin Fulford weighed in.
Fulford has admittedly had insiders pass disinformation to him on many occasions. No one is disputing that here.
The bottom line, however, is that Ben does continue to get intel from various sources that lines up with what our own trusted insiders have said, in very specific ways at times.
Here is what Fulford's sources had to say about the SIGINT and SATCOM mass shutdown:
http://www.benjaminfulford.net
"Good side" of Rothschild family says Trump will stage financial reset | September 3rd, 2018
The deadlock has ended in the undeclared U.S. civil war that lasted all summer.
The good guys have already begun a series of stunning moves against the cabal, including shooting down their secret satellites, multiple sources confirm….
The satellite shoot-down was first reported by the mysterious blogger "Q" and has been independently confirmed by three separate sources.
"On August 30, CIA satellites and supercomputers were taken down and likely seized by [U.S. President Donald] Trump's new space force.
"GCHQ [British Intelligence] was removed from the NSA database, to also render cabal elements in the UK, Australia, Canada, New Zealand, Japan, France, Germany, and Israel deaf and blind," Pentagon sources explained.
IT MAY NOT BE A SHOOT-DOWN
At this point I want to bring in the first bit of information from Pete Peterson, who is thankfully doing well enough now to be getting new briefings on a daily basis.
What Pete said is that the satellites were not "shot down" or destroyed. A curious, advanced, classified technology was used to make them invisible and unusable.
They still exist, but are not accessible in any conventional sense. They may well have been captured and removed from orbit, as Fulford's insiders have suggested.
[UPDATE: Another investigative article with interesting elements on the satellite takedowns, with data not in this report, can be found here:
https://principia-scientific.org/breaking-us-military-suddenly-blocks-uk-from-all-spy-satellite-access/]
NOW LET'S CONTINUE….
Before we get into what other sources have shared with us, let's continue with a part of what Fulford had to say in this update.
Note that this is the same wording as in the Hal Turner update above, but adds detail that it apparently came from "a CIA source in Asia:"
A CIA source in Asia who was involved in setting up the secret satellite network that was taken down last week issued the following warning to colleagues:
"We are in potential danger. I hope your vehicles have fuel and you have emergency food and water on hand. There's no telling who did this or why.
"Now that some of our satellites are down, God only knows what may be coming at us."…
The communications takedown is a prelude to both a military and financial offensive against the cabal, Pentagon and CIA sources agree.
For reasons of operational security, the Pentagon sources cannot say much about the military action other than "a U.S. military offensive is under way to terminate the defenseless and disoriented cabal."…
"It appears the October Surprise comes early with the Guns of August, as Trump proclaimed on August 31 that September is 'emergencies month' and he may drop 'truth bombs' about 9/11 and 3/11," Pentagon sources explain…
There is also a lot of action taking place on the cyber front, with multiple sources saying Google, Facebook, Twitter, YouTube, etc. are in the crosshairs, multiple sources agree….
The assault on the California-based tech giants is probably also going to lead to actual military occupation of many high-tech companies in that state, other Pentagon sources note….
[Lastly, CIA] sources say an off-world alliance will soon reveal itself to the world's public.
This last sentence is particularly interesting, considering that Fulford has been very averse to passing along any UFO-related information in his entire 10-plus years of doing this.
Nonetheless, it fits in very nicely with the briefings we were getting in the articles discussed in Part Two.
NOTES FROM "DRAGON FAMILY" INSIDER
With all of this in mind, I reached out to a trusted intel insider who I have had access to for some time, but who I rarely ever ask for updates.
[Please note: This is not Neil Keenan. It's someone I've never talked about here.]
My friend has now shown me conclusive proof that he has access to another insider who is deeply involved with the Dragon Family.
The Dragon Family is the group that holds the majority of the wealth in China, and is the most powerful of a series of factions therein.
The Dragon Family had enormous amounts of gold stolen from them by the Cabal, in the story I reported in Financial Tyranny and the Trillion-Dollar Lawsuit mega-article.
The Dragon Family was apparently responsible for the "China's October Surprise" event that we covered again here in Part Two, as of 2010.
I have heard many people claim they have contact with the Dragon Family, so I actually didn't pay much attention to what my friend was saying for some time.
Now that I have seen hard proof in the recent past, this connection has become far more interesting.
MAJOR MEETINGS ARE GOING ON
First off, the Dragon Family is deeply and directly involved in hyper-classified "Secret Space Program" technology we have reported about for some time.
They used this sort of technology to create all the mysterious EMP-type equipment failures in the "China's October Surprise" events of 2010.
For this same reason, they have a compound in America that is located near certain underground defense-contractor facilities that are rich with advanced technology.
My friend reported that hundreds of top Dragon Family personnel have flown out to this compound recently, and are signing off on a new financial system.
All the details have apparently been worked out, and everything is prepared to move forward. This would likely be a post-mass-arrests development.
This will apparently include a gold-backed US currency. We have also heard that multi-billion-dollar funds will be released to massively clean up and transform the planet.
ASKED FOR CONTACT… AND… REJECTED!
I asked my friend to get me in touch with his high-level insider, who admitted to being a fan of my work.
I ended up getting rejected, in what I felt was a truly impressive way. To me, this only made him more credible.
If he was any kind of LARPer, the chances are very likely that he would have jumped at the opportunity to get me on the phone.
This insider made it very clear that he was under strict non-disclosure, and could not talk to me even if he wanted to. His whole focus now is on trying to make sure this deal goes through.
There was no denial of the idea that spy satellites were taken down, and a mass-arrest police action was imminent. The overall plan is enormous in scope.
MORE DETAILS
The insider said that he has worked for thirty years to learn all the things he needed to know to work at the level he is now operating at.
For this same reason, he said the "learning curve" is so steep that it would take an extensive amount of time to get me up to speed, to where I could even understand the conversation.
Even if I had a few one to two-hour conversations with him, it wouldn't be anywhere near enough to have even a basic framework for discussion.
Plus, he is under NDA, and couldn't talk to me and fill me in right now even if he wanted to. Hopefully that will change.
However, he did say this, for all of us:
Tell him the coming change defies all imagination. We are living through history.
NOW FOR THE PETE PETERSON BRIEFINGS
What could this "Mr. X" be referring to when he said "the coming change defies all imagination?"
The latest briefings I received from Pete Peterson seem to be filling in some of the cracks.
I asked Pete what intelligence agencies he worked for in his career, and it includes the CIA, NSA, DIA, DARPA and DHS.
THE SPECIFIC DETAILS… HERE WE GO….
First of all, we got confirmation on the Snow White, Corona and Big Bird satellites being completely disabled with a strange new advanced technology.
He said he could not explain what the Corona satellites are or what they do on the phone, but that they are "defensive devices."
He confirmed that "a bunch" of Cabal underground bases have been wiped out in the recent past… a major increase.
He said that a new gold-backed currency will be released to the public after the indictments are unsealed and mass arrests take place.
Massive prosperity funds will be released to help stimulate and rejuvenate the world's economy, ecology and infrastructure.
Social media giants will be publicly outed as being direct assets of the Deep State's own intelligence agencies.
The declaration of September as "Emergency Preparedness Month" is very serious, and should not be taken lightly.
Quite controversially, he said almost everyone in Congress is included in the sealed indictments for various reasons.
NOW FOR THE WEIRD STUFF….
Other details I got from Pete are too specific and sensitive, but I want to give you some of a sense of what was there.
He doesn't know if an ET-related disclosure will happen right away, but he also feels it is "very unlikely" that we will have to wait very long.
There have been detailed plans on the books for some time to introduce us to multiple ET races, and those people are already here waiting for this.
At some point I asked him to explain what he meant earlier when he said, "Americans are all over the galaxy."
He reported direct knowledge of 25 or 30 outposts we have throughout the galaxy. We have an average of 300 advanced craft per outpost.
These craft have anti-gravity and can fly at Mach 17 or beyond. Coast-to-coast flights in these "planes," as he calls them, would take less than an hour.
Each outpost has somewhere between 400 to 1200 soldiers stationed there. Some outposts are larger, and some are smaller.
These outposts are used for trade relationships with important ET groups that have either information or technology we need.
Some of these outposts are on planets, and others are located in "neat abandoned stuff" that we found throughout the galaxy and re-occupied.
Some of the best stuff we re-occupied has only recently been determined to be about 20,000 years old.
DISCLOSURE PLANS
For me, the most interesting material I got from him was regarding the plans for UFO-related disclosure, whenever they do emerge.
First of all, he said fifty of our own advanced craft have been flown in. The plan is to unveil these craft to show everyone what 'we' have, post-Disclosure.
From the way he described them, these will be very impressive sightings that will electrify the world.
Based on other things he said in the past, we can expect that they will look similar to craft we have seen in a variety of big-budget movies.
Efforts have been in place to teach certain insectoid-type ETs to speak English in underground facilities such as those run by Lockheed.
Apparently, these beings will use normal speech instead of telepathy whenever they are introduced to us.
At one point he said, "Language school is tied up teaching a bunch of crickets to speak."
People from a total of ten or twelve different planets are here now, apparently waiting to be introduced to us at some future point.
Lastly, he said that many classic UFOs retrieved from various crashes will be made available to the public to see firsthand.
A movie will be made about all of this, and various World's Fair-type exhibits will be set up in different major cities, where we can view the craft directly.
THIS IS ALL VERY COMPELLING…
Another critical detail in trying to piece this whole puzzle together was released by our friends at Collective Evolution on August 24th, 2018.
In a NASA tweet from July, they revealed that a curiously flying-saucer-shaped craft was literally dropped off on the White House lawn.
The date this happened was Sunday, July 22nd, 2018.
Here is a close-up of the view of what this looks like, with the included caption:
MORE IMAGES OF THE "LANDING ON THE WHITE HOUSE LAWN"
Here is a wide-angle shot of the same image, complete with the crowds beneath it: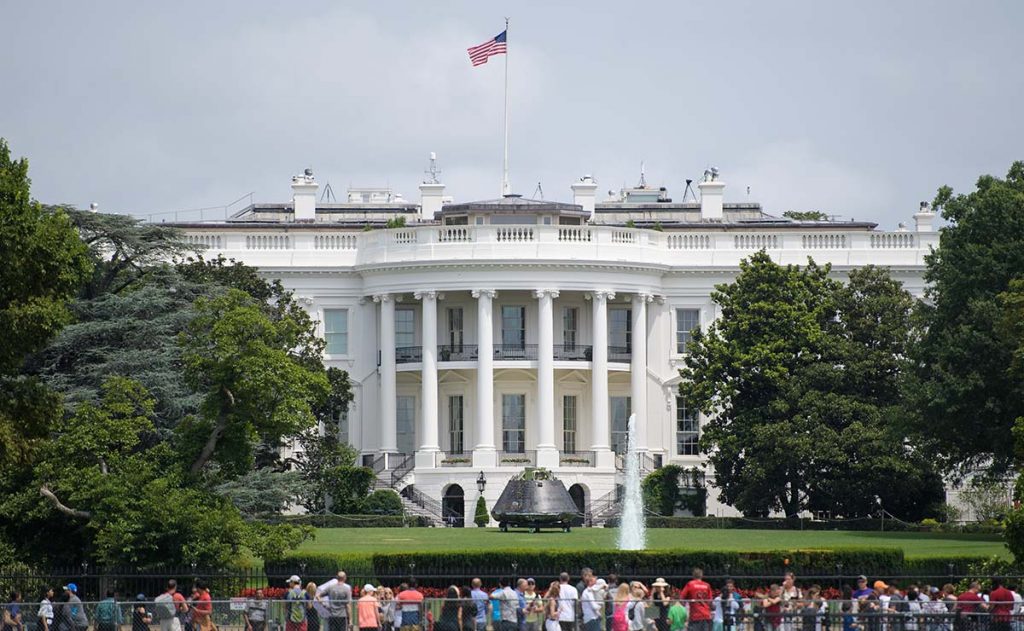 Unbelievable. You can't get much more obvious than this!
Here is a photograph of when the Orion probe was first being raised off the truck by a crane before being lowered into position: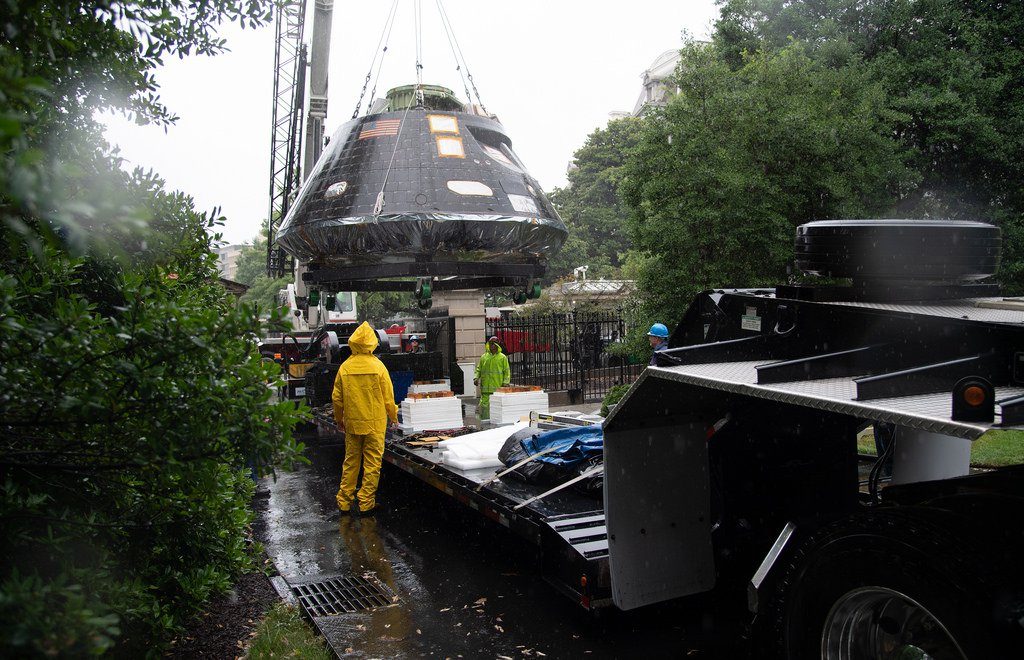 And here is another photograph of this saucer-like object on the White House lawn, from a closer distance: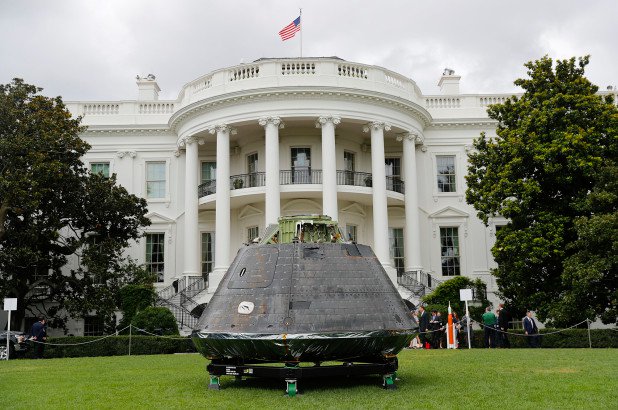 ADD IT ALL UP AND IT IS VERY COMPELLING
The next thing we would expect to see, at the time of this writing, is a very contentious "data dump" of new intel.
When we add up all the briefings we are getting from Q Anon, Hal Turner, Fulford, "Mr. X.", Corey's insiders, Pete Peterson and others, what we have here is a very compelling story.
Despite how horrible it was to try to do this with basically no internet, I managed to get it done. Now I can rest easy, knowing I did my very best to show you what I am seeing and hearing.
It is quite interesting that the White House has such a never-before-seen dramatization of the classic "UFO landing on the White House lawn" right in front of us.
As I have said to my wife and others, if this was a slot machine it certainly looks like we have a bank of seven cherries all lining up.
Since this article will very likely be blocked, suppressed, et cetera, please just tell your friends to visit divinecosmos.com and look for it.
I will leave you again with the words of "Mr. X":
Tell him the coming change defies all imagination. We are living through history.
PLEASE SIGN UP IN CASE WE GO DARK
As a final action item, these sources also told us we are very much at risk, in various ways, by posting this information.
Therefore, please take a moment to leave your email address with us in case we lose other forms of communication.
This will not be sold or shared with anyone else. It will be solely used to keep you informed about what we are seeing, hearing and doing.
As an example, new article updates should lead to emails being produced. You may still have to dig them out of Spam or Trash, and should therefore label us as a Preferred Sender.
Thank you — and remember — forewarned is fore-armed. Be prepared… just in case any of this turns out to be true.
Plans can always change, for a variety of unforeseeable reasons, but it certainly looks as if we are getting closer and closer to an "Event."
UPDATE, NEXT DAY, 9/9, 4:10 PM: FASTEST-EVER CLIMB TO 100,000 VIEWS
This article went live some time after 9 PM local time last night. I checked in here and it had already crossed the 100,000 mark by 4PM the next day, i.e. less than 19 hours:

This effectively breaks a new record as the fastest-climbing 'viral' article we have ever written on this site. We thank you for helping us.
Some people have been asking if these alleged satellite shut-downs only affect the United States. Remember what Fulford said in his latest update:
"GCHQ [British Intelligence] was removed from the NSA database, to also render cabal elements in the UK, Australia, Canada, New Zealand, Japan, France, Germany, and Israel deaf and blind," Pentagon sources explained.
This implies that we may well see major actions in multiple locations, not just the US, if all of this intel turns out to be correct.
Again, no one can know for sure if this is really going to happen, but I do feel obligated to pass along what I am seeing, particularly since there are specific instructions about being prepared.
UPDATE II, 9/9, 7:36 PM: Q JUST SAID "SOMETHING VERY BIG ABOUT TO DROP"
Now that millions of eyes are on the Q briefings, as a result of them going fully mainstream since the beginning of August, it is "now or never" in terms of promises and credibility.
The already enormous promises and hints we have seen about coming arrests just went even farther tonight, at 6:07 PM Eastern time:
Q

!!mG7VJxZNCI

ID: fd0a4a

No.2950995 


NEW
>>2950906
How do you know when something VERY BIG is about to drop?
ATTACKS INCREASE FROM ALL DIRECTIONS.
READY THE MEMES.
[FISA CORRUPTION]
You have more than you know.
KEEP UP THE GOOD FIGHT.
WE STAND TOGETHER.
Q
What they are obviously saying here is that the Deep State is attacking their credibility harder than ever because "Something VERY BIG is about to drop."
FISA is the Foreign Intelligence Surveillance Act. It rose to prominence beginning in 2005 when information first leaked about domestic wiretapping without a warrant.
Therefore, the intended message seems to be that the "big drop" will have something to do with illegal surveillance activities.
In the full context of everything we are seeing, this might one of the final moves that the Q team feels needs to be made before doing the arrests.
UPDATE III, 9/10, 9:57 AM: WILL "VERY BIG" FISA DATA DROP REVEAL 9/11 TRUTH?
I was admittedly intrigued by Fulford's latest briefing summary, and particularly by some alleged intel he received from the Pentagon:
9/10: Pandemic scare brewing as cabal faces doom
https://benjaminfulford.net/2018/09/10/pandemic-scare-brewing-as-cabal-faces-doom/
The center of action remains the U.S., where the military government backing President Donald Trump has intensified its takedown of the cabal.
Pentagon sources are saying the next phase in the attack will involve high-level Republicans like former Vice President Dick Cheney and former President George Bush Jr.,
who both "will be taken down first for 9/11 treason so that the Democrats can't complain when Barack Obama and Hillary Clinton are targeted."…
[This] next step will involve incriminating Bush Jr. etc. by declassifying Foreign Surveillance Intelligence Act (FISA) documents along with 9/11 documents from when Kavanaugh was Bush's Staff Secretary from 2001 to 2005, the Pentagon sources say….
The Khazarian cabal is reeling, but they are far from finished.  The most deadly counterattack they could make against the Trump regime may come in the form of a stock market crash.
As you can see from the article in the link below, the corporate media has now begun a chorus of doom for the market and the economy:
https://www.zerohedge.com/news/2018-09-09/snyder-chapter-american-history-not-going-end-well
9/11 TRUTH WOULD BE CHECKMATE FOR THE DEEP STATE
This almost goes without saying, but if this is true, and the data drops on or around 9/11, it will obviously be quite a sensation.
For years, all the insiders and analysts we have spoken to have said that an open, public proof that 9/11 was the work of the Bush Administration would checkmate the Deep State.
This would also explain lines from Q such as, "What you are about to learn should not only scare you, but intensify your resolve to take back control [Freedom]."
This may also explain why the word DECLAS was encoded numerically, with numbers. This could now be seen as a hint to pay attention to numbers: i.e. 9/11, regarding what is declassified.
This also explains why the FISA references are significant. They will apparently expose critical corruption from the Bush Administration related to these issues.
Note also that this 9/11 is the 17-year anniversary of the tragedy, and the 17th letter in the alphabet is Q.
If this is all true, it would definitely appear that the Deep State will respond by trying to fabricate a sudden, massive economic collapse.
ONE THING FULFORD MISSED….
Another potential sign of a Deep State counter-attack is Hurricane Florence, now expected to collide with the US East Coast and produce devastation.
For many years we have laid out the evidence that the Deep State has classified HAARP technology that can generate and steer hurricanes.
This is done by using microwave beams to super-heat areas of the atmosphere, creating the necessary high-pressure zones to create and maneuver storms.
The timing of this storm is certainly very interesting, and troubling, if any or all of this intel turns out to be true: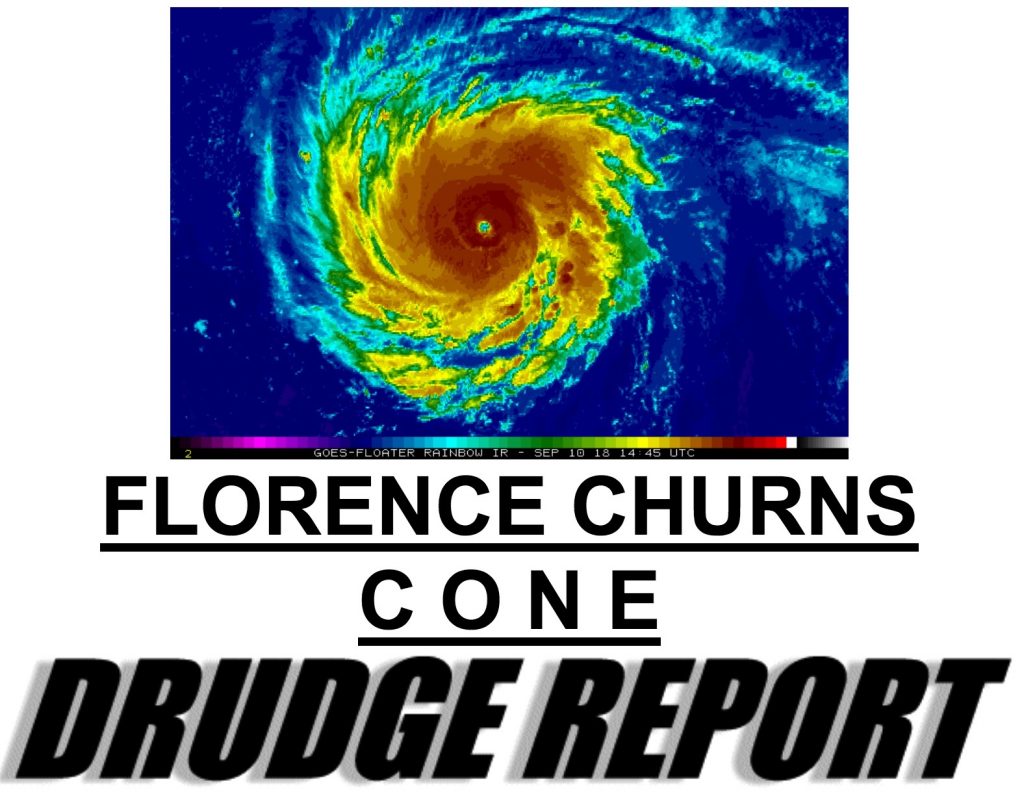 X MARKS THE SPOT… WHICH IS DC

Look at the map for anticipated landfall for this hurricane. It is anticpated to hit South and North Carolina, which is immediately below the US Capitol.
Some of the paths might take it directly up and through Washington, DC.
It could still end up turning toward the north before its initial landfall as well, based on its current position: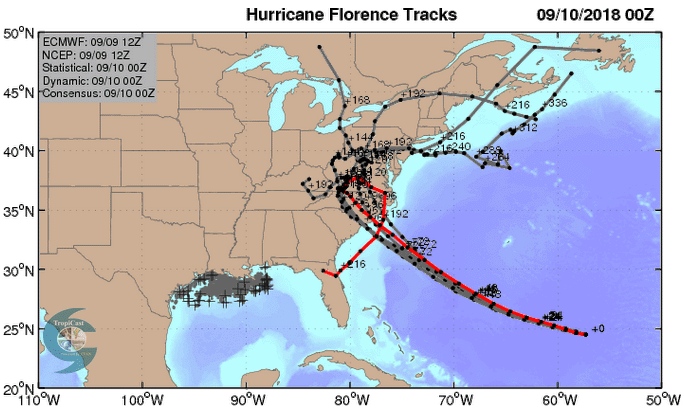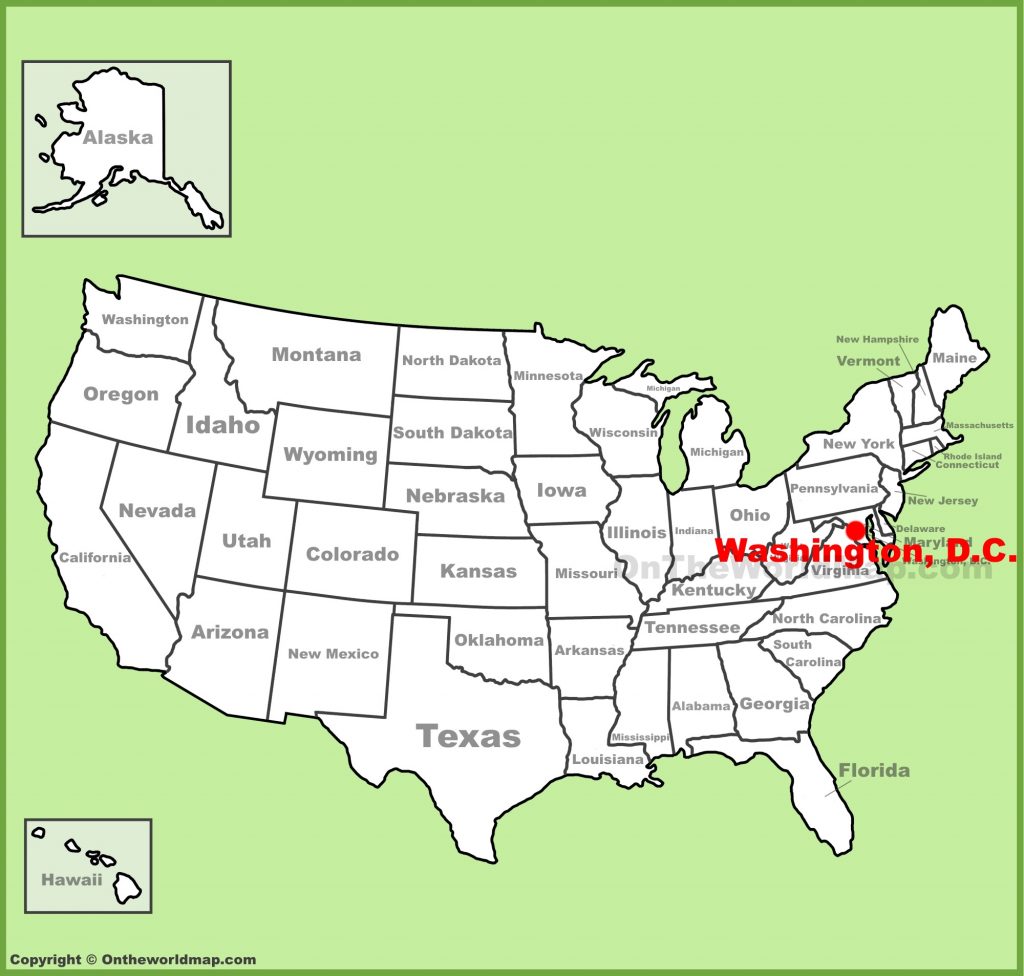 9/10: Hurricane Florence Rapidly Intensifying, Landfall Thursday
https://www.wunderground.com/cat6/Hurricane-Florence-Rapidly-Intensifying-Likely-Hit-North-or-South-Carolina-Thursday
Florence has rapidly intensified into a dangerous Category 3 hurricane, and appears destined to strengthen into a very dangerous Category 4 hurricane by Tuesday as it heads towards the Southeast U.S. Coast.
Florence is likely to make landfall on Thursday evening or Friday morning on the coast of North Carolina or South Carolina, and the odds continue to increase that Florence will stall on Friday and meander near or over the coast for several days, making the hurricane a devastating rainfall and coastal flooding threat….
Our top intensity models unanimously predict strengthening of Florence into a Category 4 hurricane by Wednesday, and the storm is also expected to increase in size….
If Florence is a Category 3 or 4 hurricane at landfall, it has the capability of generating a 20-foot surge along a 10 – 40 mile stretch of the coast where the right-hand eyewall comes ashore.
If you live in a hurricane-prone location, now is a good time to make sure you have a preparedness plan in place!
Tropical storm-force winds may begin along the coast as early as Thursday morning, so be sure to have all your preparations done by then. If you are asked to evacuate for the storm surge, get out!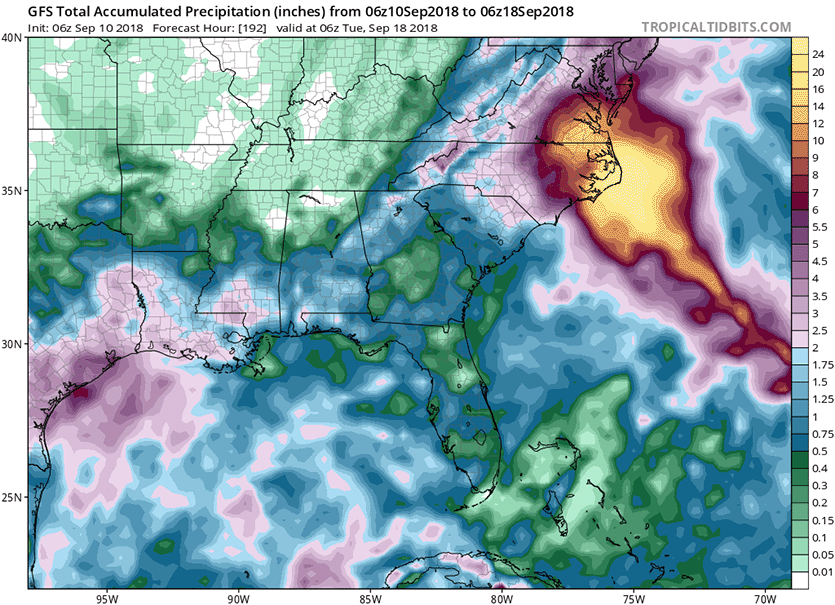 AWFULLY WEIRD TIMING….
The "coincidences" are stacking up more and more here. The timing and anticipated landfall of this hurricane is certainly compelling and frightening.
If this really is the final curtain-call for the Deep State, it absolutely makes sense that they would use every tool they have available to try to throw it off.
If DC was thrown into chaos by a devastating direct hit and 20-foot storm surge, it could create 'useful' chaos right as Q's "VERY BIG" drop is occurring.
The Deep State may also be simply hoping to create enough of a diversion to buy more time, and stop anything from being leaked right now.
For that same reason, we may not see anything drop, but that doesn't mean it won't happen.
Again… my goal in writing all of this is not to say anything is going to happen with absolute certainty. It is to connect the dots I am seeing and let you draw your own conclusions.
Please consider giving us a way to reach you in case we lose other means of communication in the resulting potential "chaos" if this is all actually true: