On Wednesday, August 30th, The Ascension Mysteries debuted to rave reviews! Today is the last day to secure your copy and have your vote count towards our potential New York Times best-seller ranking.
Also check out the new video of David and Corey Goode "behind the scenes", joking around and having a good time on the Cosmic Disclosure set.
David is in Canada on a post-launch vacation and our internet access is limited, but we are making the best with the time we have and further updates are on the way soon!
RAVE REVIEWS FOR "THE ASCENSION MYSTERIES"
At the time of this writing, 50 reviews have come in on Amazon for The Ascension Mysteries.
In case you were wondering what people are going to think about it once they read it, get this… we are at a whopping 4.9 out of five star rating!

Never before has such a far-reaching and comprehensive view of Ascension been put into writing, complete with the personal side of the story we all go through.
As I have said before, the first half is a personal account of the Ascension process, with lots of insights into how spiritual guidance works in even the darkest of times.
This material has the power to radically empower your Ascension process, even if you might find some of it challenging to read.
The second half is a grand summary of all the insider intel I have gathered over the years, and constitutes "Full Disclosure in a Book."
Based on insider disclosures, I now know for a fact that there are a variety of revelations in this book that the Cabal does not want you to see.
THE CABAL IS VERY GRUMPY ABOUT THIS
At the same time, this site has been mysteriously hacked. The main order page for the book on our site has been flagged as a "Reported Attack Page."
I can assure you that no such malware or programs exist anywhere on this site. We pay nearly a thousand a month to have an un-hackable site.
If you click on this link, https://divinecosmos.com/index.php/component/fpss/track/23/aHR0cDovL2RpdmluZWNvc21vcy5jb20vaW5kZXgucGhwL3N0YXJ0LWhlcmUvYm9va3MtaGFyZGNvcGllcy8xMTk3LXRoZS1hc2NlbnNpb24tbXlzdGVyaWVzLWJvb2s, you will see it.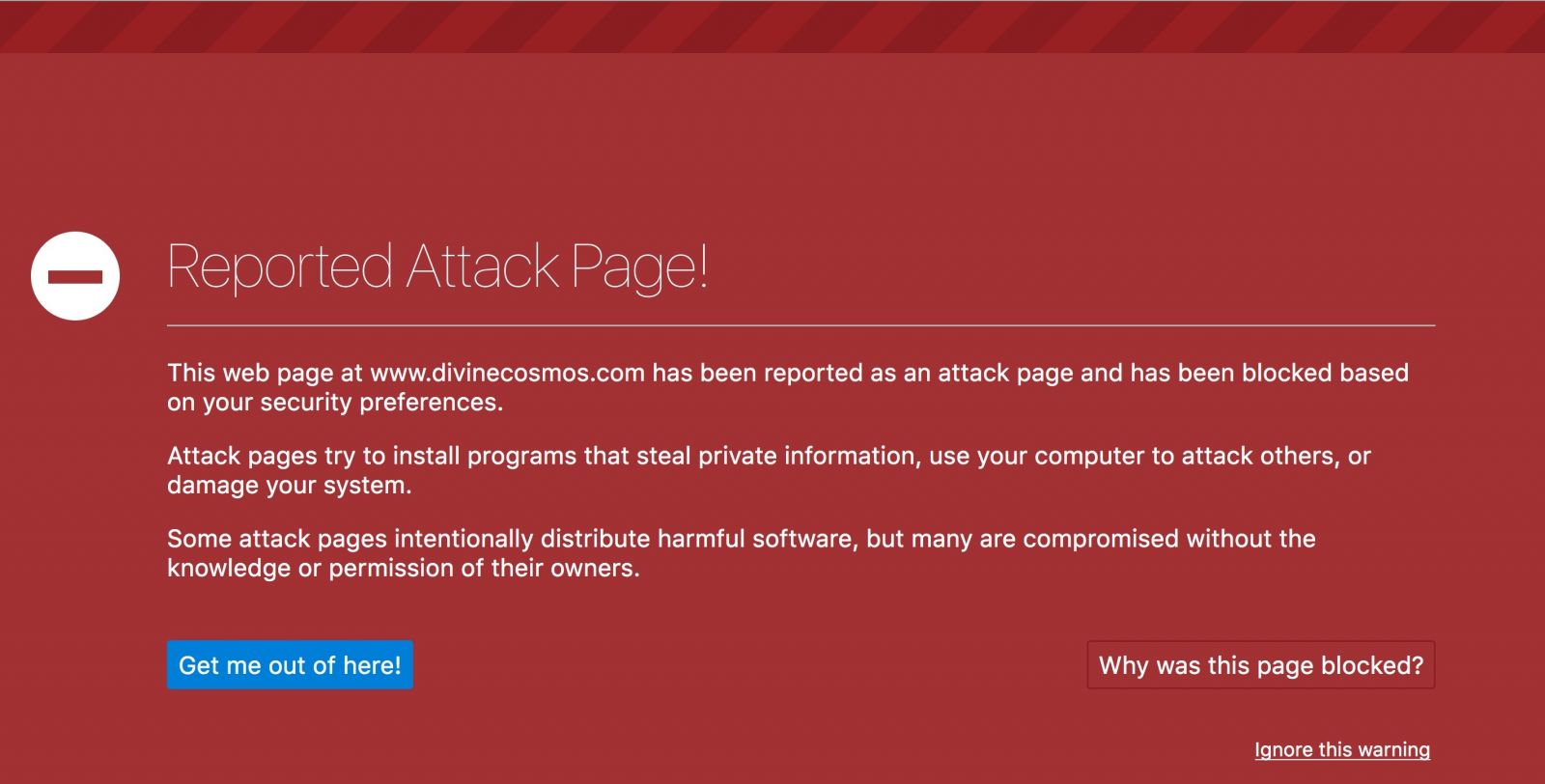 Their attempts to derail this from succeeding are laughable. It is important that you see for yourself what is happening so you can help to stop it.
ORDER LINKS FOR THE ASCENSION MYSTERIES
Don't let them win! Today is the last day where your order can help to ensure we make it to the New York Times best-seller list.
Only hardcover orders count towards this happening, so if you have been on the fence, please step up and make your voice heard!
PLEASE WRITE A REVIEW!
If you already have a copy, your Amazon review is urgently needed.
The Cabal will otherwise do their best to use cutouts to write terrible reviews — and we must bury them with authentic voices.
Even a person who doesn't believe a word of what I wrote will have an amazing sci-fi adventure in reading this book and igniting the imagination.
The only four critical reviews so far still were never less than three stars, which is still a "Fresh" rating in the Rotten Tomatoes sense.
Most of those people complained about there being personal information in the book, but the overwhelming majority of readers wanted much more of it.
The scientific presentation of intel in the second half is very condensed and well worth the purchase price alone.
So if you are unsure, just start with the introduction and then skip ahead to the chapter called Disclosure.
One last thing! Please make sure to give some specifics about the book that you liked instead of just a sentence saying it is amazing!
SEE DAVID AND COREY JOKING AROUND
Corey came out with a cool little video of us joking around on our last Cosmic Disclosure taping and you may like it. Here it is:
Now is the time to stand up and be counted! Thank you for supporting this work and writing a review! Let's hope for a best-seller rank, as with it comes credibility!
UPDATE, SAME NIGHT: REVIEWS HAVE SKYROCKETED!
Just since we put this up, the number of reviews on Amazon have skyrocketed from 50 to 90 — and every new one is five stars!
96 percent five-star ratings is almost unheard of. Thank you so much for stepping up and making your voice heard!
If you are one of the many others besides these 90 who have read the book, now is the time to stand up and be counted.
We sincerely thank you for your support. The book is still under 20 dollars and this is a tremendous way to help us out!
Also be aware that the audio version is now available from Audible as well, and I had a great time narrating it myself, using funny voices where appropriate, et cetera.
We are shooting and editing video in the Canadian wilderness and have more in store for you in the near future. Stay tuned!
#1 IN FOUR DIFFERENT CATEGORIES!
Just a few days ago we were actually #1 in Ancient and Controversial Knowledge on Amazon:

Now today, we are up to 91 comments and also hit #1 in UFOs! Sweet!

Then when you scroll down from there, you discover we are ALSO number one in THREE other categories at the same time!
So right now we are simultaneously #1 in UFOs, Unexplained Mysteries, Ancient & Controversial Knowledge and Mysticism on Amazon!
Unbelievable.
Take a look:

Once again we are fighting our way towards the top 100 of all books listed on Amazon, at a current ranking of 189.
Things are definitely looking good for a New York Times best-seller debut, which will heavily add credibility to the book.
Without your support, none of this would be possible.
Based on the reviews, this could well be our most influential work yet… so let's hope we make it to the NYT list!
ANOTHER UPDATE: SYNCHRONICITY HIT!
Right after I updated the above, I hit Refresh to check on it — and the hit counter had a triple-digit synchronicity at the end.
It was a 777, no less!
Seconds later it had already gone up to 6784, so once again this was very precision-timed event!
I don't have to do any work when these happen — they just pop out. Quite remarkable.
Many of our articles involve this happening as I post updates. Nonetheless, it never ceases to amaze me when it does, as it is utterly spontaneous.
For those who have eyes to see, this is a sign "from above" that our work is truly being blessed, and is changing people's lives for the positive!

UPDATE NEXT MORNING: A PERFECT 5.0!
I woke up this morning to discover that we now have exactly 100 comments just a week after launch, which is an incredible start — and a nice synchronicity number.
Somehow, the actual rating is now close enough to 5.0 stars, instead of 4.9, that Amazon is actually ranking it that way: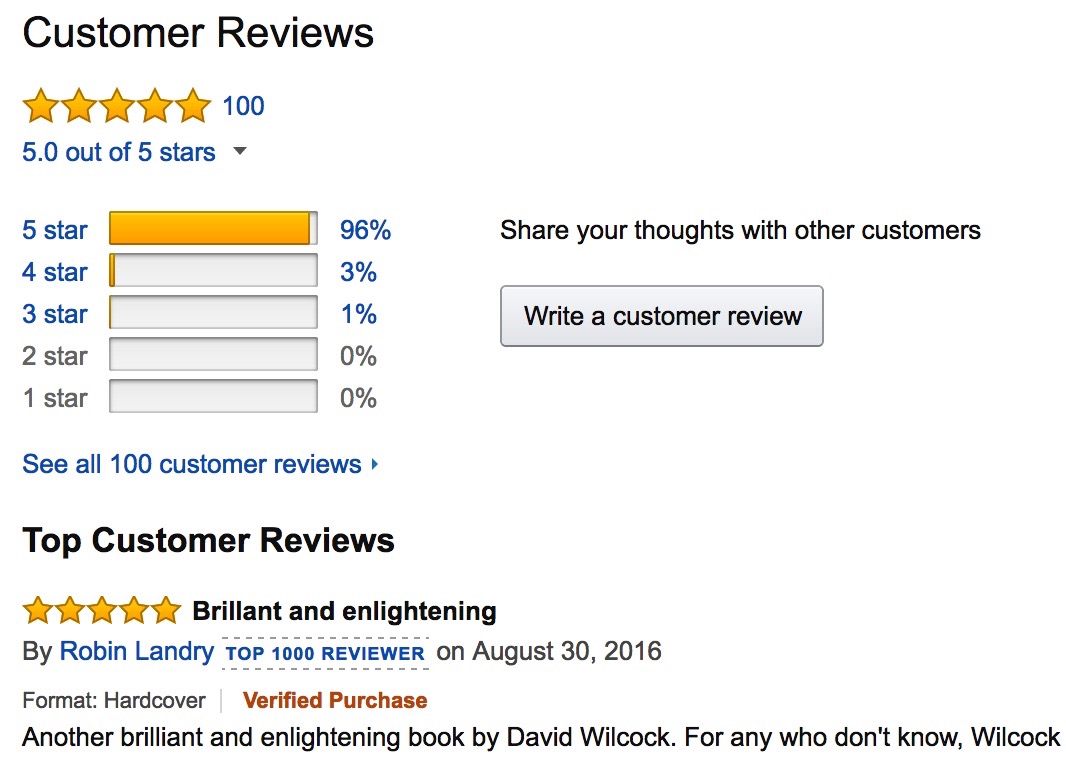 If you mouse over where it says "5.0 out of 5 stars," you see the following: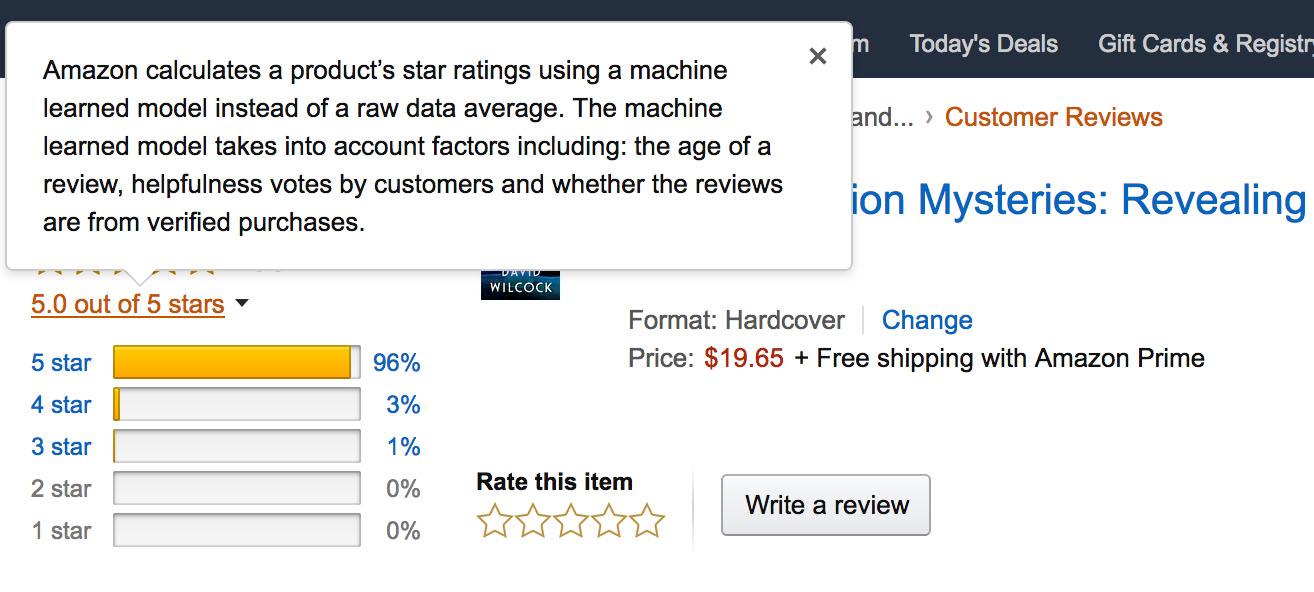 The overall ranking of Ascension Mysteries in all books in Amazon's collection has since risen from 189 to 171 as well: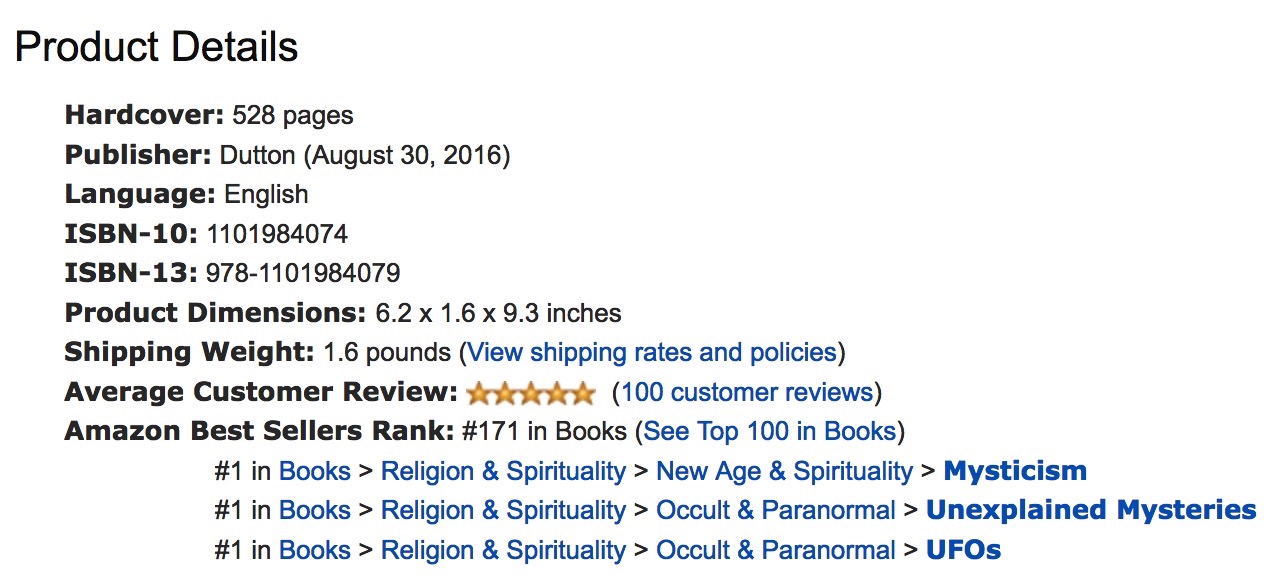 Our paid adversaries will obviously try to swoop in with negativity after an initial surge and lower the score, so we will be staying on this topic for a while.
Right now you are seeing what real readers think. If the book sucked, they wouldn't be doing this! LOL
Either way, having four number ones and a solid 5.0-star rating with 100 reviews is incredible, considering anyone who actually bought it can say whatever they want!
Again, if you have already purchased it, your voice is needed in the Amazon comments to prevent the inevitable attacks that will follow.
100 is still only a very small number of readers… so please take a minute and git 'er done!
JUST ONE EXAMPLE OF A FIVE-STAR REVIEW…
Before I finish this update, here is one of many examples within the current 100 that are worthy of being posted here. A future article will have more of them:
By VTRON on September 7, 2016
If what David Wilcock postulates is true regarding everything from Secret Space Programs, to advanced suppressed technologies, to extraterrestrials, to humanity's ultimate evolutionary upgrade knows as "ascension," the implications are truly mind-blowing.
In typical David Wilcock fashion, the documentation and evidence presented is quite compelling.
It could very well be that we as a species on this planet are on the precipice of witnessing the greatest events in all of human history.
I am glad that a five-star book has become "Typical David Wilcock." No pressure for the next one! LOL.