Thanks to you, David's new book debuted at #8 on the New York Times best-seller list — which was officially published today in the Sunday edition of the paper!
Rev. Michael Beckwith announced our surprising success at his Agape International Center — and introduced David to his congregation. See the free video for yourself!
[UPDATED 9/4: Link to New York Times Bestseller list added. 9/5: I just found out we hit the best-seller list again — for the second week!]
MANY THANKS FOR YOUR SUPPORT
We actually found out Wednesday night that we had hit the list — and I have had a deep feeling of peace and relaxation ever since.
I had the clearance to mention it publicly as early as Thursday morning, but I was admittedly wiped out after all this effort.
I finally took the time to breathe and relax for a few days — after four and a half years of intense work on this one project!
Everything else I've done during this time period — including The Source Field Investigations and Financial Tyranny — was all a prelude to this magnum opus.
Without you, none of this would be possible. I do plan on putting out additional free videos in coming weeks and months as a way of saying thank you!
I also am going back to Canada in September for a much-needed sabbatical — and possibly to work on the sequel.
I will be ready for action as I then head directly into our all-weekend Convergence event in Portland, Oregon on the weekend of September 20th.
We also have an event coming up in Albuquerque, New Mexico on the weekend of October 18th.
All participants at these events get to meet me in person, take pictures and have a conversation — and I deliver a stunning presentation with over 1000 slides!
WE CAN MAKE A DIFFERENCE
There is a great deal of suffering in the world, and it doesn't have to be that way. This book is the best effort I've made so far to help tip the scales towards the positive.
The negative forces are out there — yes — and the more we awaken to who and what they are, and why this is happening, the sooner we will move through this planetary initiation.
The Synchronicity Key has unique information that opens a discussion on many levels — and can help trigger a much broader awakening to the living universe.
It is time for us to emerge from the chrysalis of materialism — and heal the mistaken division between science and spirit.
KARMA IS IRREVOCABLE — AND AS PRECISELY BALANCED AS A MATHEMATICAL EQUATION
The Synchronicity Key is very much a book about karma, as one of the main working aspects of synchronicity — and how irrevocable this law really is.
On the planetary scale, things take longer to play out — and they do so in precise intervals of time.
We now have compelling evidence that justice will inevitably be served — thanks to cosmic laws far older than human life on earth.
We are now at that moment in the ancient and everlasting cycles where the whole facade of planetary negative control falls apart — permanently and worldwide.
The Synchronicity Key makes the case for how and why this happens. The 2012 prophecies are very much still in effect — as this is about a window of time, not an exact date.
Writing a book that documents and explains this process — before it actually moves into full gear — has been richly rewarding, and your reviews reflect that.
Please be sure to leave a review on whatever site you bought the book from, as this book is taking on the greatest negativity on earth. We want to make sure that all voices are heard.
REVEREND MICHAEL BECKWITH
We were fortunate enough to have Reverend Michael Beckwith as our personal, invited guest for a photo shoot here at the Divine Cosmos headquarters building on Friday, August 30th — less than 48 hours after we got the news about hitting #8!
It was nice to finally meet Rev. Michael after all these years. I have always respected and admired his wisdom and dedication to the truth.
Rev. Michael has been a favored guest on the Oprah Winfrey Show, and has inspired millions of people around the world.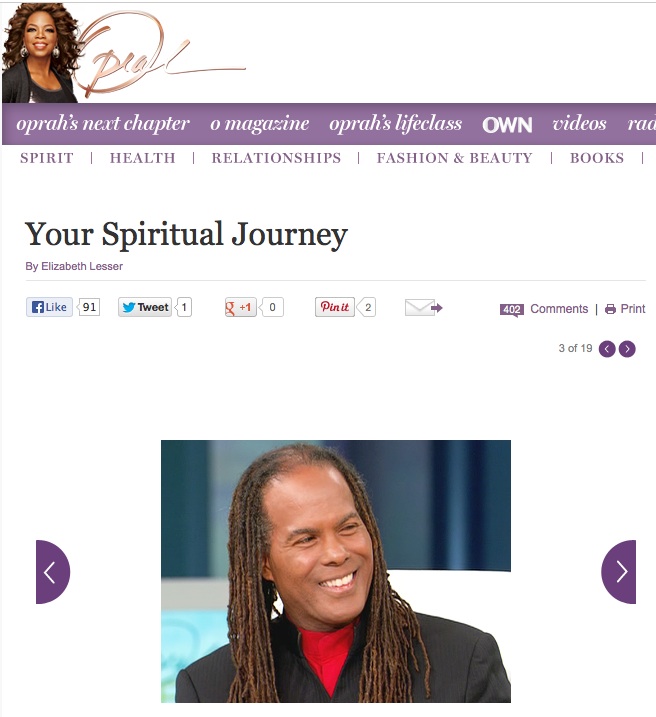 Many people have suggested that we collaborate, and we are now moving in that direction — with book signings and potential workshops now in the planning stages.
I will have more to say about this in just a minute.
UPCOMING EVENT WITH KRS-ONE
It also looks like I will be doing a lecture this year with arguably the greatest rapper of all time — KRS-One — who has used his music to brilliantly expose the Cabal since the late 1980s.
Unlike so many artists in this genre who use their music to discuss sex, drugs and violence, KRS has always worked socially progressive messages into his lyrics.
I was quite blown away when I heard "Sex and Violence" in 1992, and realized that someone was using this art form to expose the Cabal so effectively.
In that sense, he was way ahead of his time — and disguised powerful wisdom in music most people who are not fans of this idiom would never pay attention to.
I have a strong reason to believe that KRS has a close "vibrational similarity" with Martin Luther King — and may well be his reincarnation.
KRS is still very popular, and this soul may have "recalibrated" his next incarnation to use music to get his message out — in a way that better suits the culture and mindset of our times.
I wrote briefly about this in an article from April 13, 2007.
In his classic video "You Must Learn," he dresses like MLK in one key scene, while exposing many suppressed truths in his lyrics — and encouraging people to study history.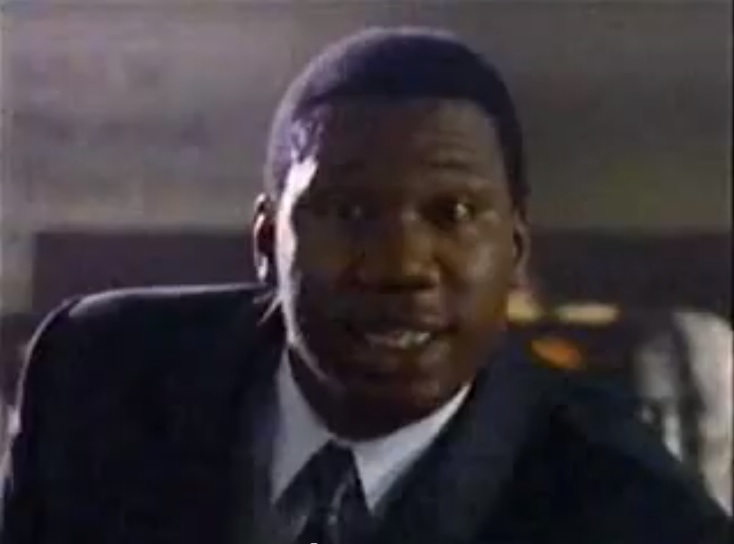 I met KRS about a year and a half ago in the local Whole Foods — and blew his mind when I flawlessly delivered one of his best "raps" from 1992, start to finish.
Judging by his reaction, this was not something that happened to him very often. His lyrics are very fast and complicated and require great verbal dexterity and timing to perform.
By the time I learned them, I was already able to bust out intricate jazz solos on a drum kit — and that undoubtedly helped me pull it off.
In my first two college semesters, most of my friends were listening to the latest KRS album — and with the coaching of my friend Khalid, I memorized the lyrics from every song.
Twenty years later, it was very satisfying to have KRS kick in various lines in as I went along — and our random meeting set up the possibility for this event to happen!
Back in 1992, he was considered "The Real" — number one among all rappers — and I still feel he is in a category all his own when it comes to lyrics, rhythms and message.
We will have more about this upcoming event in the weeks to come — but KRS has already accepted the invitation!
PERSONAL INVITATION TO AGAPE
Less than a week after we set the groundwork for this event with KRS, Reverend Michael was visiting me in person — here at our main headquarters.
I gave Michael a copy of the new book, and got a personal invitation to see him live at Agape International — which I happily accepted!
In the following video, linked at this page, Reverend Michael announced the new book and introduced me to his extended family at 28:27 into the program.
In case you've never seen him before and want to jump right in, Rev. Michael's impassioned speech rolls into full gear beginning at 42:33.
I was right there, about 30 feet away as he delivered it — and many regulars said this was an unusually energized performance. He certainly elevated the whole crowd!
I would highly recommend listening to what Rev. Michael had to say, as it was definitely inspired by our conversation, the contents of the book, and our mutual dedication to the truth.
I had to laugh because people often accuse me of "going too fast" and never taking a breath. Once Michael got rolling, he was definitely in that same zone!
ALL FORMATS ARE NOW AVAILABLE
Now that The Synchronicity Key made the New York Times best-seller list, we can talk more about other versions besides the hardcover edition.
Many people in Michael's audience came up and asked me if there was an audio version that I dictated myself — and the answer is yes.
They also asked me when it will be available — and I told them it's already out now in its downloadable audio form!
For some reason, the CDs aren't coming out until January — but you can still get it now if you don't mind downloading your audio files.
Some folks like to listen more than read — and I feel very good about the performance I gave for this book.
THE EBOOK IS MY FAVORITE
The Ebook is also handy, becuase you can have it anywhere you go, as long as you have your phone or tablet with you.
Furthermore, over 90 percent of the references in the book can be looked up online for more information with two quick clicks in the ebook.
I will probably only be bringing the electronic version with me to Canada — and will read it in the mountains if I feel so inclined!
Again, I want to thank you for making this such a big success. It blew me away that we made it into the top ten! Without you it never would have happened.
There is still a lot of work to be done, but with your collective voice, we now have a powerful means of exposing the truth — and fighting for freedom, peace and prosperity for all.
ORDER HERE FROM BARNES AND NOBLE
UPDATE 9/4: LINK TO NEW YORK TIMES BESTSELLER LISTING
I am enjoying some hard-earned time off in the Canadian Rocky Mountains — and flew in yesterday morning after Labor Day.
Right now I'm in a very remote area, and have to share satellite internet access with everyone else. There is no cell reception whatsoever.
At the moment, 1:08 PM, I actually can use it, probably because most of the other guests are out hiking. It's still ridiculously slow, but at least it works.
The pine smells alone more than make up for the lack of internet connectivity. I slept for 13 hours straight last night in a rustic log cabin, and feel amazing.
I worked so hard this past year that it honestly feels like I was just here — except now the book is actually finished, and has been a major success!
Here is a link to where our book appears on the New York Times best-seller list.
Unlike the first volume, which was strictly scientific, this volume has a lot of personal growth material in it, which led the NYT to categorize it under Advice, How-To and Miscellaneous:
http://http://www.nytimes.com/best-sellers-books/2013-09-08/advice-how-to-and-miscellaneous/list.html
UPDATE 9/4: FANTASTIC INSIDER CHATTER FROM MULTIPLE SOURCES
I do want to mention something else here as well. Once I have better internet access at my next location, I will probably write a new post about this, perhaps early next week.
The insider leaks on the efforts to defeat the Cabal had dried up for a while these past few months, at least within my own immediate contacts — but not now.
There are some very encouraging pieces of news I've been hearing that could explain why I've been pounded with such intense dreams preparing us for something really big — and positive.
Only a few of those dreams have been released here, due to time constraints — but there have been a number of them lately.
At this point I want to be extremely careful about specifics, and only reveal things publicly that would help the effort, rather than hinder it.
Let me just say that if the things I'm hearing are true, it verifies and further extends what we've been hearing from both Neil Keenan and Fulford lately.
This new information came to me from three different sources.
One of those sources got completely independent verification of key details from three separate insider contacts, with very high-level access.
If I were to write down what I heard, it would polarize the audience. Some people would believe it and think it is amazing, and others would refuse to believe it.
I really do hope we see action and not just more talk. If the action does happen, it will be the most significant historical event in any of our lifetimes.
THURSDAY 9/5: WE HIT THE LIST AGAIN — FOR THE SECOND WEEK!
Breakfast is only served here until 9AM, and it's 8:55 — so everyone is off, and the internet access is about as good as it gets for the next few minutes.
I brought chia seed oatmeal and almond milk with me, as well as kale chips and nuts, as I can't get down with wheat toast, eggs, bacon, cereal, syrup and what have you, so here we are.
I was surprised and delighted to find out in an email last night that The Synchronicity Key has hit the NY Times best-seller list for the second week in a row!
This is especially surprising since the first week includes all pre-orders combined, whereas the second week does not.
Nonetheless, we still managed to hold on at #19, which was one lower than where The Source Field Investigations debuted at.
In this case, there obviously will be no internet link to the data until Sunday, but we will publish it after that — and include it here.
In the meantime, I thank you for posting your reviews about the book on Amazon and Barnes and Noble. That is a very important part of this process!
ISOLATION AND SOLITUDE IS A GOOD THING
The overall lack of internet access has been good for me. Some of the best pages in Synchronicity Key were written here, and I expect the next book will be flowing soon enough!
I am actually starting to remember dreams again, which is terrific. I can already tell that additional prophetic data is coming in that needs to be sorted out.
I had a dream this morning that I still have to finish writing down — but when I saw I had internet access, I wanted to strike while the iron was hot!
I will make sense of it all, and post more updates soon enough.
There is so much going on right now that if I wasn't on vacation, I would probably be working constantly to try to write about it all.
Nonetheless, I think we are far enough along now that a positive outcome will occur either way. I have done my best to help this effort whenever possible.
FURTHER UPDATE: POSTED THE UPDATE RIGHT AS WE BROKE 20,000 HITS!
Right after I posted the above and made it live, I went to a screen that shows all the articles and their statistics.
We had crossed 20,000 hits right as I was writing it — and at the exact moment I posted, it was only 3 hits over the line, sweet Mary:

I took a picture of this and popped back in to make this update. One additional click had happened since then, bumping it up to 20004:
Yet another example just happened after I posted this update and then went to read it online. We now had 20033 hits, and 1234 Facebook Likes — again showing "patterns in chaos":

Sequences that count up, such as 1234, or that count down evenly, are another example of synchronicity number patterns I've seen for many years now.
THE SUN BROKE OVER THE MOUNTAIN IMMEDIATELY AFTER UPDATING!
Synchronicity kept on flowing, as immediately after I posted this next update above, the sun broke over the top of the mountains. It literally happened within 60 seconds — as of 9:31 AM.
I had to use Photoshop to enhance the contrast of the area around the sunrise, or else the mountains were all dark: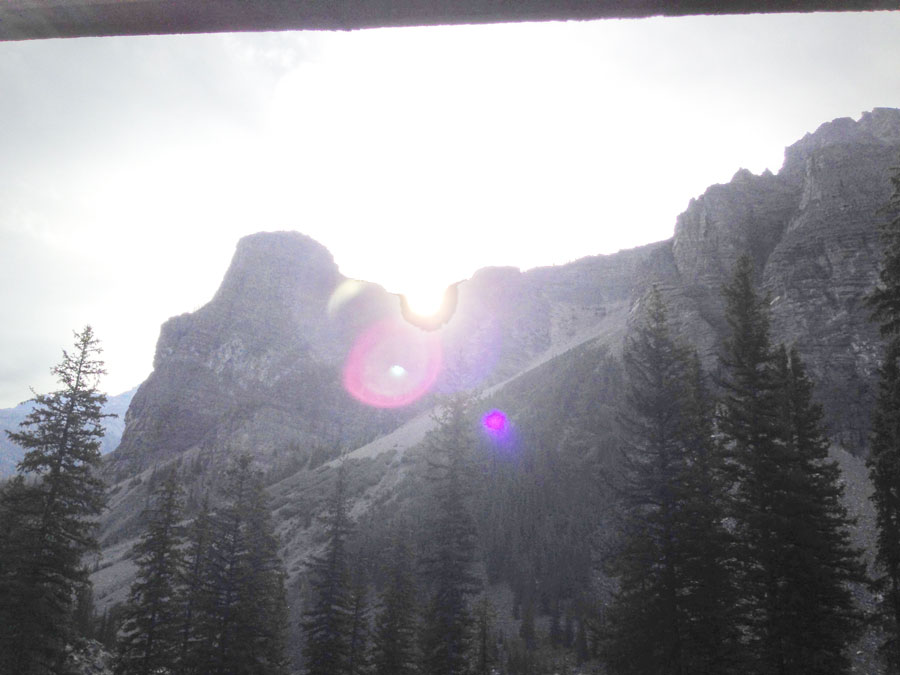 Then when I came back in to make this new update, the last two digits of the hit counter again showed a pattern — this time 77:

Here are two other photos I took of the sights I've seen since I got into this area, using just the Iphone. This is why I'm here: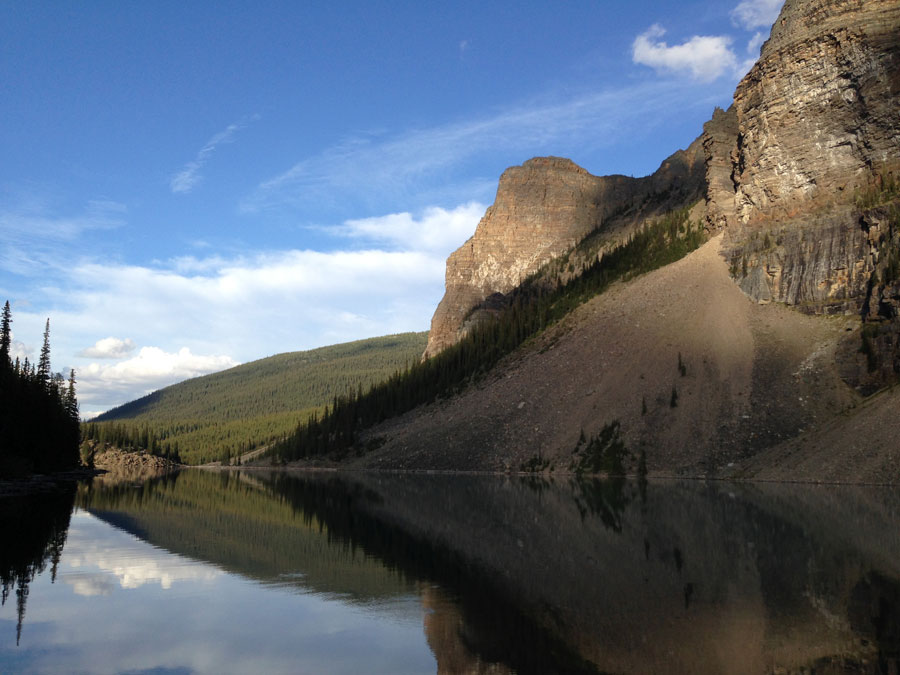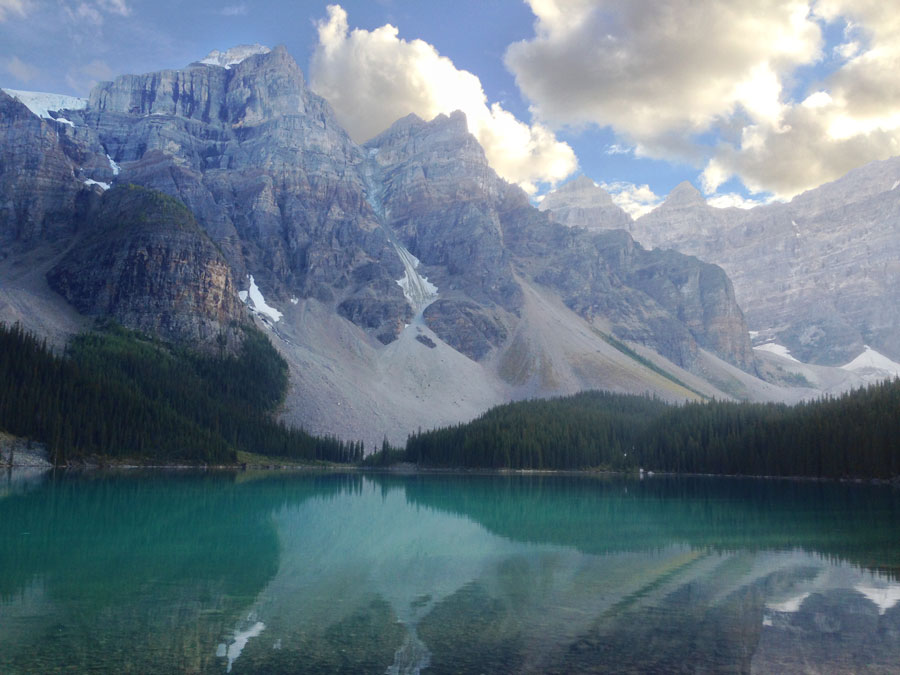 THIS IS SOMETHING THAT HAPPENS TO ALL OF US
People often comment and ask why I bother to point these out, or say that they have any greater meaning.
Simply put, I don't have to do any work, consciously, for these patterns to appear. I just woke up naturally and updated the article when it felt right.
This phenomenon underlines and emphasizes the philosophy in the new book. Namely, we are all being guided subconciously, whether we realize it or not.
Synchronicity like this shows that you are more highly 'calibrated' and able to receive impulses with exact timing — but everyone is subject to these effects.
Karma is one main example. We do it to ourselves, in many cases, quite without any conscious understanding.
Synchronicity is a very important key to the awakening process — and as I say in the book, simply becoming aware of it makes it more likely to occur.
DON'T FORGET THAT YOU CAN WATCH AS WELL AS READ!
Please be sure to check out Gaiam TV as well — as there are a wealth of half-hour shows I present, which you can enjoy for less than ten dollars a month.
You can start a 10-day free trial, with no obligation, and watch every existing episode for FREE, at wisdomteachings.com.
New half-hour episodes come out every Monday — and it just keeps getting better and better!
Gaiam TV has tons of great material — a veritable warehouse of wisdom, with over 5000 top spiritual titles — and the library is constantly expanding.
I have taken a huge variety of topics that I may have done in one or two events, only to drop later on — and have cataloged many of them here!
I do feel it's well worth your time — so check it out!