A fully intact ET corpse from South America, featured in the upcoming SIRIUS documentary, is nearly identical to another mummified body found in Russia in 1996.
Both beings emerged from egg-shaped craft. The Russian being lived with us on Earth for at least three weeks — and was completely benevolent.
See the astonishing comparison photos for yourself!
[UPDATE, SAME NIGHT: These same beings apparently visited Easter Island, were revered as Gods, and turned into little statues. See below.]
[UPDATE MONDAY, FEBRUARY 4TH: New pictures found! Also, these folks may have been living on Earth for quite some time — and are the stuff of many legends.
[Please LINK to this article, and use small EXCERPTS from it, but do not RE-POST it on other websites. Thanks!]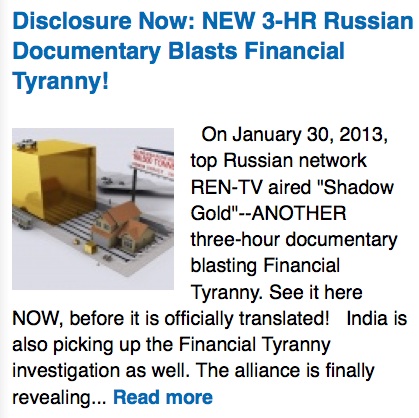 THIS WAS WORTHY OF A BRAND NEW ARTICLE
This all started after Russia released six full hours of documentary footage based on our groundbreaking
Financial Tyranny
investigation.
"A Million For a Marriage" aired on January 16, 2013 — and "Shadow Gold" just aired on January 30, 2013.
Both of these shows were on prime-time Russian television — on one of the top networks — and seen by millions of people.
The award-winning director of SIRIUS, Amardeep Kaleka, lost his father in a tragic mass shooting at a Sikh temple.
This occurred only nine days after Dr. Steven Greer announced that a genuine ET corpse would be featured in the SIRIUS film.
JUST 24 HOURS LATER, RUSSIA REVEALS ANOTHER MAJOR PIECE OF THE PUZZLE
24 hours after we posted the last update, Russian readers revealed that a nearly-identical corpse had been found in 1996 — in the Ural Mountains.
The similarities between the two corpses are astonishing — as you are about to see for the first time.
At this point we do not know where the Russian corpse is being stored.
In order to set this story up, I will begin by repeating some of the information you saw in yesterday morning's updates.
Is SIRIS going to be "just another Disclosure film" with high-ranking insiders — the likes of which we've seen so many times before?
Not exactly.
What if Kaleka's film is about to present the world's first intact, preserved specimen of an extraterrestrial humanoid?
[Or, as it turns out, the second specimen… of apparently the same species.]
On July 28, 2012 — two days after India accused the Nielsen Ratings of fraud in a multi-billion-dollar lawsuit — Dr. Steven Greer posted the following urgent message on his blog.
Amardeep Kaleka's father was murdered in the Sikh temple shootings — just nine days after he and Dr. Greer went public with this message, and warned it could put them in danger.
We will inter-cut images from the SIRIUS trailer itself as we go.
The above X-ray might look like something you don't want to meet, but this type of human is among the smallest visiting Earth — as it turns out.
The most recent SIRIUS trailer reveals this enigmatic corpse was found in the Atacama desert in South America — and indicates a Spring 2013 release date for the film.
This EBE is in the possession of a cooperative institute, desiring further scientific evaluation of the possible ET.
We cannot reveal, at this time, the location of this being — or the name of the person or persons who possess it.
Dr. Jan Bravo– who is a STAR Board member and a fellow Emergency Physician– and I have actually visited the group that possesses this EBE — and have personally and professionally examined the being.
It is indeed an actual deceased body, and most certainly is not plastic or man-made.
It has a head, 2 arms and 2 legs — and is humanoid.
We have seen and examined X-Rays of the being.
Its anatomy, however, is not homo sapien (modern human) or any known hominid (predecessors to humans).
As you can imagine, the security and scientific issues surrounding the further testing of this potentially explosive and world-changing evidence are mind-boggling.
However, we feel we simply must proceed expeditiously but cautiously.
The costs of doing proper MRI testing, full and dispositive forensic-level DNA testing, and carbon dating with other isotope testing are considerable — and certainly not currently funded.
We must rule out other hominids, bizarre genetic defects and so forth.
If you can assist further with funding the campaign for Sirius, we will attempt to carry out this scientific inquiry — however daunting it may be.
We are currently investigating what these costs will be, but they will certainly be in the tens of thousands of dollars — and perhaps more.
Dr. Bravo, myself, Dr. Ted Loder, Professor Emeritus University of New Hampshire, and other scientists who wish to remain confidential will be doing the examinations and testing.
[Note: Greer had hoped the film would be out by December 2012, as he wrote here. The anticipated release date is now Spring 2013.]
We will need your help with funding this and the rest of "Sirius". And we cannot buy the safety and security that millions of people knowing about what we are doing can afford.
But we did.
And we are here to tell the tale — because millions of people knew what we were doing, well before that historic event.
Tell everyone you know — now.
The worst case scenario is that this being is not what it appears to be. But if it is: My God!
[This section is a review of the events we revealed in yesterday's update.]
India's number one TV network filed a huge, billion-dollar lawsuit against the Federal Reserve-controlled TV ratings organization, the Nielsens.
The Caryle Group, a Bush corporation, is one of the directors of the Nielsen Ratings.
In two back-to-back incidents, half of the entire country blacked out.
Then, less than a week later, a mass shooting struck at the heart of the Indian people in America.
Now — at last — I feel that the risks I took with my own life, the failed assassinations, and the deaths of my friends and colleagues have not been in vain.
The information has been released. A full-length book, six hours of prime-time documentaries in Russia, and news coverage from India has now emerged.
Once the truth is set free, it can never be stopped.
This is only the beginning.
The first few rocks of the avalanche are falling around the Federal Reserve and their shadowy controllers.
Do you hear that sound?
It is the sound of freedom.
There is additional, interesting information on Greer's blog about the recovered ET corpse — as we see in the following excerpts.
Amazing New Results from Possible ET Body
The day after I wrote and published the above, we found out that an astonishingly similar, fully intact ET corpse appeared in Russia in 1996.
This story was revealed to the Russian people in 1996.
In this case, the being apparently died with its jaw closed, instead of the jaw being open as in the one from the SIRIUS documentary.
The eyes also appear to have mummified into the Russian corpse — instead of the empty sockets we see in the South American version.
There is also a whitish deposit around the mouth of the Russian corpse that is not seen in the South American version.
Unlike the South American being, which died with its arms at its side and its mouth open, this being crossed its arms and closed its mouth.
This makes its face appear slightly more boxy than the South American corpse.
Notice, however, that the semi-circular skull fissures around either side of the forehead are basically identical in the two corpses — as well as the pointy top.
When we see the Russian corpse from the back, it has nearly identical shoulder blades as the South American corpse.
The Russian corpse is slightly taller — but only by about two inches at the most.
This could be due to the Russian corpse being a full adult, and the South American corpse being a young adolescent.
Other than that — and the difference in whether the jaw is open or closed, and whether the eyes are still in the sockets — they are nearly identical.
Here is the 1996 Russian video that all of these shots were taken from.
All the dialogue is in Russian, unfortunately, but the pictures say it all.
This is revealed in Russian documentaries about this case — including some from REN-TV — and Dr. Greer's updates we read above.
And that's not the strangest part.
The Russian corpse was not always a dead body.
It was found outdoors — by an elderly woman in the southern Ural Mountain region of Kyshtym.
The being had emerged from an egg-shaped craft — just as the one found in South America.
It is not yet clear why the being was left behind, without its craft — as in the case of the South American corpse.
Since the details surrounding the South American corpse have not yet been revealed, it may have a similar story.
The South American being may also have emerged alive, and lived with people here for a period of time before its death.
Kyshtym was a major hub of plutonium production for the former USSR.
The ETs often have taken a direct interest in protecting us from unexpected nuclear disasters.
The old Russian woman actually brought the being, alive, into her apartment in the town of Kyshtym.
The being lived with her for at least three weeks — but apparently could not survive in our environment for very long.
At least three other people witnessed the being while it was still living in her home — and they are also featured in the video interviews.
After Alyoshenka's death, this case was widely covered by various Russian newspapers and TV channels.
Here is an excerpt of the section of a REN-TV documentary that featured this case.
At the moment, there are seemingly no videos about this entity in English.
Last November, I met Lloyd Pye in person. I held a perfect stereo-lithographic copy of the Starchild Skull in my own hands.
The bone is twice as light as normal human bone — but also twice as hard.
There are tremendous physiological differences between the Starchild skull and a normal human skull.
This video is of Lloyd introducing the skull — three years ago.
There is a wealth of evidence that this is a genuine extraterrestrial human skull — including DNA testing.
If you search YouTube for videos on this stunning case, you will find several very good ones.
The Cabal are masters of psy-ops, disinformation and fear-mongering.
Tens of billions of dollars have been spent on propaganda — leading us to feel absolutely terrified of non-terrestrial humans.
Is the death of Kaleka's father really a "coincidence" — given the power of this evidence to free humanity from the Cabal?
The connection between Greer and Kaleka's specimen and the Russian specimen is astonishing.
I am honored to be featured in the upcoming SIRIUS documentary — and to be participating directly in this historical event as it unfolds.
We now know that the Russian being was totally benevolent — and gave its life to inspire the Russian people, and now the world.
Even if the visitors WERE negative — and the vast majority are not — we STILL should be given the technology that was recovered.
Honestly, when seemingly normal people attack this information, you have to wonder why.
Let's not dishonor the brave, and utterly innocent men and women who paid the ultimate price for our freedom.
I prefer to focus on the 99 percent of you who are sending us your love, support and encouragement.
The fight for freedom is never easy. Terrible sacrifices have already been made.
But we can do it.
And we will.
Together.
Comment #7 from Moji alerted us to the Kava Kava Moai statues, which he synchronistically was reading about the same day he saw this.
The statues are the same size and shape as the bodies we see — and were worn on the necks of ritual dancers, for ceremonial purposes only.
There are stunning similarities between the Kava Kava Moai statues and these beings we've just seen.
Most likely, the statues were slightly changed — specifically in their facial features — after the original beings had come and gone.
However, the exact shape of the body — including the exposed ribs, exposed shoulder blades and the curvature of the back — is nearly identical.
We can even see a bony extension on the bottom of the jaw that is re-interpreted as a small goatee on the Kava Kava Moai statues.
Prior to 1924
sculpted wood
Easter Island (Rapa nui)
Let's remember something very important before we close out this new update.
All we need to do is CARE enough to explore the evidence that is already available.
Fear is what stands in the way of the truth coming out.
It definitely does not appear that beings like Alyoshenka want to do us any harm — despite their unfamiliar appearance.
UFOs have repeatedly been seen over nuclear missile installations — ensuring they cannot be used to destroy our planet.
This was a consistent theme we heard from Dr. Greer's original Disclosure Project witnesses in 2001.
Alyoshenka landed near a major plutonium deposit in Russia.
They also apparently were of immeasurable benefit to the people of Easter Island — giving them wisdom and technology.
Now — in our post-2012 world — this story is finally breaking loose in the Western world.
It is time to grow up. It is time to know the truth. We are not alone.
It appears this little being was stored in a freezer — and you can see ice crystals on the shoulder blades.
You can also see the back of the skull BEFORE Dr. Greer's surgical team used a fine bone saw to remove a circular area for a tissue sample.
It also appears that the jaw area, due to how thin it is, had degraded from freezer burns and turned dark brown by the time Greer's team analyzed it.
In these pictures, everything is much more easily visible.
Here is an excerpt from the article that featured this fascinating case.
Small Beings from the Cosmos
It was wrapped in cloth with a red ribbon.
It is a creature of approximately 15 cm. in length, with sharpened teeth and one strange protuberance in the skull, besides owning 9 ribs.
Ufologists could not agree what it was, and while some think that it can be a human fetus, others discard this option because the skull does not present or display fontanelas.
For Mario Pizarro, representative of Aion, is taken precaution to avoid that the evidence is lost.
He considers that the skeleton of the Chain dump has nothing has to do with a fetus of our species.
Like Alyoshenka, it was alive when he first found it — but soon died, perhaps from physical injuries sustained during transportation.
Here are some of the most surprising photos from the Chilean photo gallery linked to above.
This definitely does not appear to be the same species as Alyoshenka, but has certain similarities.
Although this could possibly be a fake, it would be a very good one — and it seems unlikely that this boy or his family would go to this much trouble.
Watch out — he might bite ya!
These same folks — or at least others who are slightly taller — may have visited many other traditional cultures as well. Our insider Daniel just tipped me off to this.
"Little People" Legends Are Widespread
In some tribes they are known as "tiny people eaters," in others they were known to have been spirits and healers, and some believed them to be magical, similar to leprechauns or fairies.
In 1876, another ancient graveyard was documented as having been discovered in Coffee County, Tennessee.
Your generous support is what makes this work possible — and we do very much appreciate it!
The Conscious Life Expo
Participate in the conscious co-creation of our future!
February 8th – 11th, 2013, at The Los Angeles Airport Hilton Hotel.
Featuring Workshop Presentations with notable luminaries and best selling authors; free cutting edge panel discussions, 95 free lectures, Exhibit Halls, Film Festival, Post Conference Intensives, Special Events, Spiritual Traditions, Future Technologies Healing Lounge and Healthy Foods.
Plus George Noory Banquet Lunch, Internet Marketing Boot Camp and Cosmic Convergence Celebration!
Purchase Tickets and Register Online today!