On January 30, 2013, top Russian network REN-TV aired "Shadow Gold"–ANOTHER three-hour documentary blasting Financial Tyranny. See it here NOW, before it is officially translated!
India is also picking up the Financial Tyranny investigation as well. The alliance is finally revealing itself — and demanding justice.
The graphic you just saw at the top of this article is what all the official, on-the-books gold in the world looks like — if you formed it into a single cube.
Once you see it as a cube, whose edges fit comfortably into an Olympic-sized swimming pool, it's easy to have a new perspective.
The total volume — now being hidden away by the international version of the Federal Reserve, called the BIS — is 2,420,937.4 metric tons.
This is, quite literally, considered the greatest secret of modern history.
Not anymore. [Scroll down to the bottom for the embedded video.]
World Wars I and II were fake.
Both sides were secretly being run by the same people — with the same goal.
Over 100 million people died — for a completely different reason than they thought.
Both sides fighting these wars — Axis and Allies — were owned and controlled by the same international bankers.
That is the great, ugly truth we must face if we want to heal this planet.
Look… I know how horrible this is. It's almost beyond imagination.
About one percent of our audience — some of whom may be paid to do this — attack us with astonishing passion, fury and violence online.
Laughter and sarcasm is not going to help us get through this.
Some may decide to do this in order to avoid facing a very uncomfortable truth.
Others hyper-scrutinize the data, desperately seeking to find one incorrect point — hoping to then discredit the entire investigation.
In so doing, they feel like they have vanquished the demon of Truth — and can continue to stay in the "real world" a little longer.
Nonetheless, once this truth is exposed and healed, on a worldwide level, the resulting benefits will be absolutely spectacular.
Now there are six hours of prime-time documentaries — on one of the top Russian television networks — directly supporting our investigation.
The entire Bolshevik Revolution, which formed the Soviet Union from 1917-1922, was not-so-secretly financed by the Federal Reserve bankers.
On April 5, 1933, Executive Order 6102 was used to make it illegal to own gold in the United States.
Violations for "gold hoarding" were punishable by up to a 10,000-dollar fine, ten years in prison, or both.
This letter was ordered to be "posted in a conspicuous place" by the US Postmaster General — during the worst part of the Great Depression.
Everyone had less than a month to comply.
Their gold was purchased at 20 dollars an ounce — and then quickly revalued up to 35 dollars an ounce after it was over.
The Nazis did a wonderful job of plundering the central banks in every country they invaded — and stashing away the gold for their paymasters.
In 1939, the Soviet Union under Stalin signed a pact with the Nazis, under Hitler.
This was a key part of the Federal Reserve plan — to unite the opposition and create the grounds for a true world war.
Little did anyone know that the same people who financed Stalin and Hitler were controlling the United States' financial system.
The Federal Reserve financed and backed the Soviet Union. They financed and backed Nazi Germany.
They also financed and backed Japan in the Meiji Restoration.
"Meiji" means "Illuminated Ones" — i.e. the Illuminati.
They seized control of the financial system of the United States in 1913 — and used its vast resources and military might as a staging area for their plans.
Even after World War II, Federal Reserve associates continued to pass vital information between the US and the USSR — including nuclear secrets.
Aug. 7, 2012: Rothschild Betrayed Nuclear Secrets to Soviet Union [Originally Posted Oct. 23, 1994]
THE LATE Lord Rothschild, scientist, think-tank head, first- class cricketer, bomb-disposal expert and MI5 agent, was a super-spy for the Russians, according to a forthcoming book.
Specifically, he alleges that Rothschild, not Klaus Fuchs, or, as is generally believed, the civil servant John Cairncross, first alerted Stalin to Allied plans to build an atom bomb using plutonium 235.
The evidence offered is largely derived from three days of interviews in Moscow with seven retired KGB officers, some identified only by initials.
These "greenbacks" were issued by the US Treasury.
They were backed by the equity of the United States government, but not by precious metals — and could not be taxed by foreign bankers.
That made them very, very angry.
The bankers — soon to be known as the Federal Reserve — had ordered Lincoln to pay between 24 to 36 percent tax on all the money he needed to finance the Civil War.
This next political cartoon was a political attack piece from the bankers that became the Federal Reserve — against Lincoln's efforts to save the US economy.
85 percent of this gold was originally mined and hidden away in Asia.
Its existence, and whereabouts, was kept highly secret. No one wanted their gold to be stolen!
Fourteen and a half cubes of gold. 2.4 million metric tons. The greatest secret of modern history. How is this possible — and who cares?
It does sound like the plot of an epic "conspiracy thriller" movie — far too outlandish to be true — but the evidence is overwhelming.
The gold was seized as part of a worldwide plan for domination and control that goes back to at least the late 1700s, if not earlier.
By stealing everyone's gold, no one could compete with the worldwide "magic printing press" — creating money out of thin air.
Those in power could determine who lives and who dies — who eats and who starves — by controlling the flow of currency.
The countries who secretly handed over their gold — or had it stolen from them — knew that it had ended up with the Federal Reserve.
They were given Federal Reserve bonds — in astronomical dollar values — as collateral for their "deposits" into the Bank for International Settlements, or BIS.
These "Global Collateral Accounts" were then used to create incredible amounts of money for the insiders and their cronies.
Many of the rightful heirs to this fortune were never given a red cent. Not one dollar of the Collateral Accounts was shared outside the Federal Reseve clique.
This was considered the most highly classified and dangerous secret of them all — much more than the UFO cover-up.
This insider had passed along a great deal of actionable information about the Collateral Accounts.
He was also a firsthand witness to several of the bunkers that stored the gold — in staggering amounts.
After about two more months, I was weary of this fight — and the lack of any immediate results.
The international alliance had promised more aggressive actions to end Financial Tyranny than what we actually saw.
I could risk my own life — and directly or indirectly risk the lives of others — but I had no control over what the alliance did, nor when.
We needed action, not talk. If they refused to act, then I was not going to publicize their efforts any further.
I took a big break from pursuing this investigation — thanks in part to some dreams I had, telling me to relax and get grounded.
I headed off to Canada, beginning in early September, and had a major relaxing trip — where I tried to heal from the stress of all this work.
Given how much I have explored and unearthed the real, hidden truth of world economics, I am credited as an "economist" in the show.
Now, as of today — January 30, 2013 — another, even more powerful and focused three-hour documentary has been released by REN-TV on this subject.
I have known about this for weeks. They asked me not to publicize it until it came out — for security purposes.
The second taping featured over 30 questions — which were much more detailed than the first round. I am told I am featured in all three sections.
This show has just been seen by as many as 138 million people in Russia — based on the potential size of the REN-TV prime-time audience.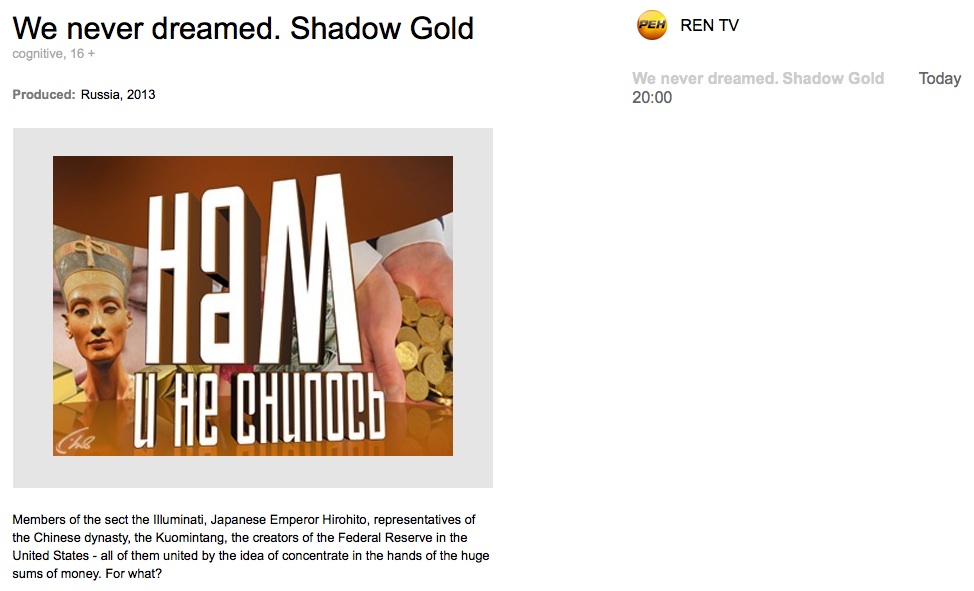 We are actively working on getting BOTH documentaries translated and subtitled in English — ASAP.
Right for now, this is only available in Russian — but here it is, for your viewing pleasure.
You can get a decent idea of what they are talking about just from the fast-moving imagery.
My parts are in audible English under the voiceover — and you can scrub through the timeline and see where they appear.
Literally on the same day that this Russian documentary came out, a major Indian news website called First Post promoted our investigation as well.
This seems like a good time to reveal another unpleasant story.
I understand that this next part might seem so overwhelming that you might have a hard time getting through it.
The stakes in this battle are very, very high. The moves that are being made are so outrageous that it seems impossible to believe — even ludicrous.
Nor will we bury our heads in the sand — and pretend that this is all a "conspiracy theory" and means nothing.
Instead, we will expose the Cabal — with the truth.
It started on July 26, 2012 — when India's oldest and largest TV network "lobbed a legal grenade" at the Cabal.
Out of nowhere, India posted a groundbreaking lawsuit against the Nielsen Ratings — accusing them of manipulating the viewership ratings of TV shows.
This lawsuit was filed in the New York State Supreme Court, by New Delhi Television, LTD., against the Nielsen conglomerate.
The world's largest media corporations, including the Nielsens, are heavily controlled by the Federal Reserve.
July 26, 2012: India Takes On the Nielsens — Link to Huge Court Document
Is this "just another Disclosure film" with high-ranking insiders — the likes of which we've seen so many before?
Not exactly.
What if Kaleka's film is about to present the world's first intact, preserved specimen of an extraterrestrial humanoid?
On July 28, 2012 — two days after India's shocking Nielsen lawsuit — Dr. Steven Greer posted the following urgent message on his blog.
Amardeep Kaleka's father was murdered in the Sikh temple shootings — just nine days after they went public with this message.
I will inter-cut images from the SIRIUS trailer itself as we go.
The above X-ray might look like something you don't want to meet, but this type of human is among the smallest visiting Earth — as it turns out.
The most recent SIRIUS trailer reveals this enigmatic corpse was found in the Atacama desert — and indicates a Spring 2013 release date.
This EBE is in the possession of a cooperative institute, desiring further scientific evaluation of the possible ET.
We cannot reveal, at this time, the location of this being — or the name of the person or persons who possess it.
Dr. Jan Bravo– who is a STAR Board member and a fellow Emergency Physician– and I have actually visited the group that possesses this EBE — and have personally and professionally examined the being.
It is indeed an actual deceased body, and most certainly is not plastic or man-made.
It has a head, 2 arms and 2 legs — and is humanoid.
We have seen and examined X-Rays of the being.
Its anatomy, however, is not homo sapien (modern human) or any known hominid (predecessors to humans).
As you can imagine, the security and scientific issues surrounding the further testing of this potentially explosive and world-changing evidence are mind-boggling.
However, we feel we simply must proceed expeditiously but cautiously.
The costs of doing proper MRI testing, full and dispositive forensic-level DNA testing, and carbon dating with other isotope testing are considerable — and certainly not currently funded.
We must rule out other hominids, bizarre genetic defects and so forth.
If you can assist further with funding the campaign for Sirius, we will attempt to carry out this scientific inquiry — however daunting it may be.
We are currently investigating what these costs will be, but they will certainly be in the tens of thousands of dollars — and perhaps more.
Dr. Bravo, myself, Dr. Ted Loder, Professor Emeritus University of New Hampshire, and other scientists who wish to remain confidential will be doing the examinations and testing.
We will need your help with funding this and the rest of "Sirius". And we cannot buy the safety and security that millions of people knowing about what we are doing can afford.
But we did.
And we are here to tell the tale — because millions of people knew what we were doing, well before that historic event.
Tell everyone you know — now.
The worst case scenario is that this being is not what it appears to be. But if it is: My God!
So let's review what we've just explored here.
India's number one TV network filed a huge, billion-dollar lawsuit against the Federal Reserve-controlled TV ratings organization, the Nielsens.
The Caryle Group, a Bush corporation, is one of the directors of the Nielsen Ratings.
In two back-to-back incidents, half of the entire country blacked out.
Then, less than a week later, a mass shooting struck at the heart of the Indian people in America.
Now — at last — I feel that the risks I took with my own life, the failed assassinations, and the deaths of my friends and colleagues have not been in vain.
The information has been released. A full-length book, six hours of prime-time documentaries in Russia, and news coverage from India has now emerged.
Once the truth is set free, it can never be stopped.
This is only the beginning.
The first few rocks of the avalanche are falling around the Federal Reserve and their shadowy controllers.
Do you hear that sound?
It is the sound of freedom.
There is additional, interesting information on Greer's blog about the recovered ET corpse — as we see in the following excerpts.
Amazing New Results from Possible ET Body
The Cabal are masters of psy-ops, disinformation and fear-mongering.
Tens of billions of dollars have been spent on propaganda — leading us to feel absolutely terrified of non-terrestrial humans.
Is the death of Kaleka's father really a "coincidence" — given the power of this evidence to free humanity from the Cabal?
Even if the visitors WERE negative — and the vast majority are not — we STILL should be given the technology that was recovered.
Honestly, when seemingly normal people attack this information, you have to wonder why.
They dishonor the brave, and utterly innocent men and women who paid the ultimate price for our freedom.
I prefer to focus on the 99 percent of you who are sending us your love, support and encouragement.
The fight for freedom is never easy. Terrible sacrifices have already been made.
But we can do it.
And we will.
Together.
I was so blown away by this news that I took what you just read at the end and re-worked it into an entirely new article — the very next day.
It turns out that a nearly identical little being appeared in Russia — in 1996.
This being ALSO came out of an egg-shaped craft — and was completely benevolent.