"What the Government Does Not Want You to Know About UFOs" has now been officially launched on Huffington Post — a stunning, sexy overview of information in David's new book, The Source Field Investigations! See for yourself what all the buzz is about — and start the discussion!
A WONDERFUL BOOST

Yesterday, August 23rd, 2011, we officially released The Source Field Investigations — a summary of a lifetime's worth of research into the greatest mysteries of our time.
The Source Field is the hidden 'matrix' that creates space, the flow of time, physical matter, energy and biological life as we know it. The Source Field is also the key to unlocking the mysteries of the mind… in fact, it IS consciousness.
Many people have presented this concept before — but never has there been such a thorough, rigorous collection of scientific proof that space, time, energy, matter and biology are all the result of a universal conscious energy field.
The night before our big launch, I did a full three-hour show with George Noory on Coast to Coast AM — and we had a phenomenal response. As of the next morning, our book had skyrocketed up to the 17th best-selling title on Amazon!
The Amazon best-seller list updates by the hour, and we'd slipped back a bit to 18 by the time I got a picture of it — but here it is:

I thank you so much for your support of this groundbreaking work. Without you, this never would have happened.
NUMBER ONE IN THREE CATEGORIES

Another encouraging development is that right now we are the number-one most popular title in three different major book categories on Amazon, as you can see here — namely Controversial Knowledge, Prophecy and Occult:
OUR VOICES ARE BEING HEARD

It is a remarkable victory, for all of us, to end up in the top 20 of all books on Amazon, as well as three number ones in three different categories — not to mention having the Source Field Investigations video growing by about 10,000 views per day. We're now at over 120,000!
This reminds me of the stunning 450,000-percent increase in our Amazon sales ranking after we first announced the book for pre-sale orders on this site — making us Number One on the Movers and Shakers list, and delivering us up to number 17 on the best-seller list — just like we reached again this morning:
FRONT PAGE PUBLICITY ON BARNES AND NOBLE

We also just got front-page publicity at Barnes and Noble's website — in the Cool Books category: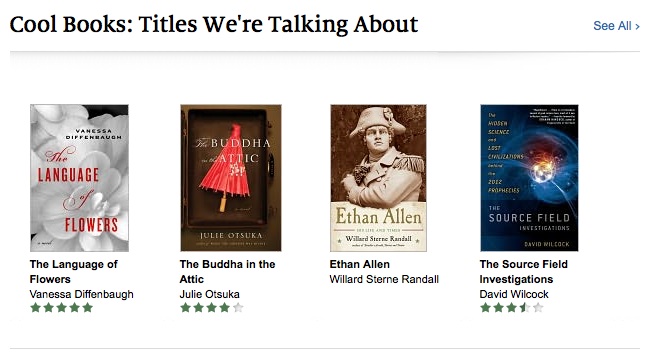 These numbers and figures do matter. They show that you care. They show that you are paying attention.
They show that you want this information to reach larger and larger audiences, and you are willing to "vote with your wallet" for Disclosure — and a Golden Age for all humanity.
Enough secrecy. Enough cover-ups. I want the truth and I want it NOW — and this book demystifies all the science associated with the UFO phenomenon.
Had it not been for your marvelous support base, there's no way we would have ever gotten noticed by the Huffington Post — but that is exactly what has happened.
THE HUFFINGTON POST SLIDESHOW
We have a full-time, highly effective publicist at Penguin working to generate a variety of different opportunities for this information to seed the mass consciousness.
However, I must admit I was totally blown away by the Huffington Post breakthrough. I put a lot of time and effort into making it the best presentation I could — with stunning visuals and explosive new data, all in 13 slides with 150-word captions each.
The result is terrific — even if you can't afford the book right now, you don't want to miss this. I definitely recommend going to Huffington Post and seeing it for yourself! Here's the link:
http://www.huffingtonpost.com/david-wilcock/ufos-government_b_933641.html#s336285&title=Disclosure_

Please don't forget to leave a comment about the slideshow and vote on the slides you like the most. All of this shows your level of commitment and desire to see this information reach larger audiences — and have a positive effect!
What's even better is that they have paved the way for me to become a regular Huffington Post contributor. You can subscribe to my article feed and get involved by going to my page. I do recommend you "fan", "favorite" and "Like" on Facebook here, as again, they track these things and it really matters:
SOURCE FIELD ORDER LINKS

DON'T FORGET TO WRITE A REVIEW!

Once you've had a chance to read the book and really get what all the fuss is about, it would be terrific if you would go to Amazon and / or Barnes and Noble and write a review.
One of the things that will undoubtedly happen is that paid disinfo agents will write scathingly negative reviews of the book and pose as if they were ordinary people.
This information has been kept highly classified for the better part of 60 years, by both the US government and the former Soviet Union. It is the key to our planet's future — and it has been stolen from us. The Powers that Were are going to fight, hard.
Thankfully, with your help we are generating a force of nature that is too powerful to be ignored, sidelined or overlooked.
There is much more to say — and another article will be out very soon to discuss the stunning world events surrounding the book's release, and their greater symbolic meaning.
For now, the most important thing is for you to go see the slideshow and add your voice to the chorus!
http://www.huffingtonpost.com/david-wilcock/ufos-government_b_933641.html#s336285&title=Disclosure_
Thanks again for your help… you are awesome and we couldn't have done any of this without you. Quality information is a wonderful thing, but if no one cares enough to pay attention to it, then it often dies in obscurity.
You have not only kept this train on the tracks — you have become a powerful locomotive that guarantees we will all get where we need to go. And for that, you have my undying gratitude and respect.
Many blessings — and may the Source be with you!
UPDATE: NO FRONT PAGE THIS TIME AROUND… BUT…

Unfortunately I just found out that the editor who told us we would get on the front page was misled — it was not within their discretion, as the front page of Huffington Post has different editors. It was assumed we'd get it — but we didn't.
They do have a UFO disclosure article up there now, but it appears that we are not going to be linked on the front page — at least not this time around. We also did not get a photo associated with our article — it's linked in text-only form on Weird News (at the top) and the Books section (in the middle).
This makes it all the more important for us to make this slideshow popular — to let 'em know, by the numbers, that this is front-page material. What other news could possibly be more important for these times?
I can, and will, write more contributions now that the door is wide open for it. We also have their top UFO / Disclosure writer set to interview me, and that will almost certainly get front-page publicity.
In this game it's all about buzz — so by helping us get on the New York Times best-seller list with your orders, and flooding this slideshow with traffic, you can send out a very strong message.
http://www.huffingtonpost.com/david-wilcock/ufos-government_b_933641.html?ir=Weird%20News#s336273&title=What_is_consciousness

Thank you for your support in this mission-critical stage of our journey.